Rough Justice
Policing, Crime, and the Origins of the Newfoundland Constabulary, 1729-1871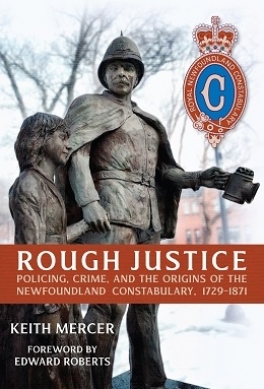 Rough Justice is a history of policing and crime in early Newfoundland. It focuses on the period between the appointment of the first constables on the island in 1729 to the establishment of the Newfoundland Constabulary in 1871, now known as the Royal Newfoundland Constabulary. This makes the Constabulary the oldest continuous police service in Canada.
This book concentrates on regular constables and their lived experiences in the court system and in the community. These law officers, who were largely ignored by politicians at the time and by historians in recent decades, were critical to making that justice system work. This social and legal history brings their stories to life for the first time. Case studies provide fascinating glimpses into the dangers of law enforcement across the island, not just in St. John's and Conception Bay, but also in rural districts such as Trinity and Placentia.
These early policemen, mostly untrained amateurs, were officers of the court, but they also played important roles in some of the most notable historical events and social crises of the eighteenth and nineteenth centuries. The establishment of the Constabulary in 1871 built upon that strong foundation of community service. Rough Justice weaves that narrative into the larger history of Newfoundland.
"a window into the complications of law and policing when a handful of constables were practically the only agents of authority anyone saw. And that kind of sharp eye for how Newfoundland society and government operated is evident all through the book."

-- Christopher Moore --
This book, a project of the Royal Newfoundland Constabulary Historical Society, is a comprehensive and articulate read. Mercer consistently anchors the larger historical perspective in relatable, digestible, visual scenes. Such researched and vivid scenarios are contextualized and unpacked to illustrate the legal, moral, political and social aspects framing their time. Rough Justice is a solid work of scholarship, and also filled with character, illuminating a previously precluded aspect of N.L.'s law and order past.

-- Joan Sullivan - The Telegram --
As a lover of all things history and all things related to my culture, I found Rough Justice to be both an interesting and comprehensive analysis of subject matter not often explored yet crucial to the growth and development of a modern society. Rough Justice is a solid, well written and expertly researched record of how Newfoundlanders lived and worked a century and a half before the formal establishment of the Royal Newfoundland Constabulary. It is the story of those many men who quietly enforced the law and helped to make communities safe through the maintenance of public order. In the words of Chair Edward Roberts of The Royal Newfoundland Constabulary Historical Society it is "a valuable contribution to the public record of Newfoundland's past".

-- Stephanie Collins - Fireside Collections --
In this exhaustive and meticulously researched book, Keith Mercer charts the origins of the Newfoundland Constabulary through the daily exploits of the men who policed St. John's and the rural outports. Rough Justice is more than an institutional history of the Newfoundland Constabulary; it is a highly readable account of some of the intricacies of daily policing in colonial Newfoundland.

-- Michael Boudreau - Acadiensis --
Keith Mercer's new book Rough Justice: Policing, Crime and the Origins of the Newfoundland Constabulary, 1729 - 1871 is a real find for Canadian History buffs. Rough Justice is just what every good history book should be, well-researched, documenting a little-known era and doing so in an informative and dramatic style. If you have never tackled an academic work on policing's development, this is the one to star with. You will not be disappointed. Rough Justice does make for a fascinating read and it is highly recommended for Canadian history enthusiasts, police historians and anyone with a curiosity for all things Newfoundland and Labrador

-- Gibson Gavin - The Quarterly --
Shopping Cart
You have no items in your shopping cart
| | |
| --- | --- |
| Sub Total | $0.00 |
| Shipping | $0.00 |
| HST (0%) | $0.00 |
| GST | $0.00 |
| Total | $0.00 |
---