Viking Trail
Stories of the Great Northern Peninsula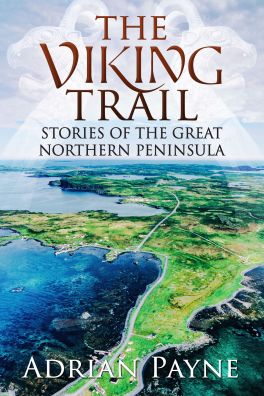 Adrian Payne spent more than fifty years guiding and hunting on the Great Northern Peninsula. The Vikings, who came to the shores of Newfoundland in the 11th century, hunted caribou and trapped fur-bearing animals in this rugged, untamed wilderness. Generations later, outfitters like Adrian Payne believe they are walking in the footsteps of these legendary Norsemen, and here he pays homage to them with stories of adventure and daring rescue in the wild.
When the Vikings overwintered in the New World, specifically in Newfoundland, they had truly found paradise. The ocean was full of cod and other species, and the rivers teemed with salmon and trout. The forest was full of fur-bearing animals. There were shiploads of timber to take back to their homeland, and the mountains were plentiful with thousands of caribou.
Why the Vikings didn't stay in Vinland, as they called the island of Newfoundland, is anyone's guess. The decision to leave may have been influenced by the natives, who continually attacked them while they slept. It is believed by many that some of them stayed behind and married into the Innu and Inuit cultures in Labrador.
Shopping Cart
You have no items in your shopping cart
| | |
| --- | --- |
| Sub Total | $0.00 |
| Shipping | $0.00 |
| HST (0%) | $0.00 |
| GST | $0.00 |
| Total | $0.00 |
---