Mother of the Regiment and Other Remarkable Women of Newfoundland and Labrador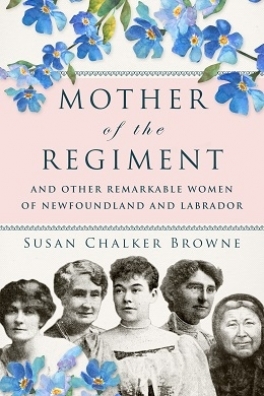 An advocate for veterans, a photographer, a writer, a suffragist, an opera singer. Five remarkable women who pushed boundaries and made a difference at the turn of the twentieth century. But history then was about men, and no one wrote about these women. Their stories faded from memory and then disappeared for decades. Here now are those stories.
May Furlong — Advocate for Veterans
Elsie Holloway — Photographer
Lydia Campbell — Writer
Armine Gosling — Suffragist
Georgina Stirling — Opera Singer
Five biographies detailing the ambition, intelligence, compassion, and grit they all shared. The obstacles they overcame, the tragedies they endured, the incredible success they achieved. Discover how May Furlong, Elsie Holloway, Lydia Campbell, Armine Gosling, and Georgina Stirling pressed against the social norms of a century ago and helped change life and attitudes in Newfoundland and Labrador.
This collection of biographies gathers the lives of five women, each remarkable, diverse in personality and accomplishments and linked roughly to a late 19th-/early 20th-century timeline. Many of us may have heard of one or another of them but Susan Chalker Browne has fleshed out and enlivened their stories, buttressed with well-researched and evocative detail and situated with apt and sensitive relevance...Independence is a common thread in riveting biography collection

-- The Telegram --
Shopping Cart
You have no items in your shopping cart
| | |
| --- | --- |
| Sub Total | $0.00 |
| Shipping | $0.00 |
| HST (0%) | $0.00 |
| GST | $0.00 |
| Total | $0.00 |
---