Stories from the Hole in the Ceiling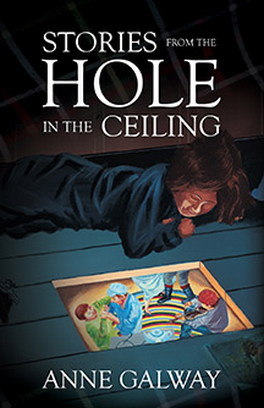 ---
---
1926881435
978-1-92688-143-0
---
Children in their formative years often learned secrets and gained an understanding of a wider world through the hole in the ceiling. Now as adults, they share for the first time their cherished memories of overheard conversations that have shaped their lives—stories of humour, heartache, and joy—from friends, relatives, and visitors to their childhood homes. The character of Newfoundland and Labrador comes shining through in this treasury of shared experiences collected by retired teacher Anne Galway, who has seen the value of the unique and fascinating education that can be gained through the hole in the ceiling.
"Give us This Day. . .".
I was the youngest of five children. My mother died when I was four years old. Dad raised the five of us on his own. We had a big two-storey house on a large farm in Holyrood. I often think of how cold it was in the morning when I stepped out of bed. I also remember having a pee pot under the bed.
The thing that sticks in my memory was the hole in the ceiling. I spent a lot of time there, mostly listening to what was going on. I was being quite nosy actually. Most of what I heard was everyday talk, neighbours and relatives dropping in to chat. I couldn't see a lot because the hole was directly over the stove and my view was limited. I could see, however, the end of the couch, which was by the kitchen stove.
What I saw there one morning has stayed with me over the years and been a great sense of comfort for me. Dad was a big strong man who farmed for a living. There he was kneeling on the floor, his elbows on the couch, his head in his hands, saying his prayers before he started the day. We talk about things in life which influence the way we live and something as simple as this has strongly influenced mine.
Phyllis Mary Smith
Kelligrews
  "The Dance"
In the early 1950s, we young ones heard of a concert on Ireland's Eye Island. A crowd of us got in a boat on a cold windy November night and headed for Ivanhoe, where the concert was going ahead. After the concert, which was only about a half-hour long, the dance started.
During the dance a young fellow from Ivanhoe invited our boyfriends to come with him for a drink, which was not unusual during outport dances. Off they chased this young fellow, who was about fifteen or sixteen years old. He took them to his home, where he planked a bottle on the table. More than likely it was moonshine. The kitchen was full of people telling stories and singing songs. Our boyfriends told us they didn't know anything before this older man with a three-day beard poked his head down the hole, above the stove. From his vantage point he insisted, "Put MY bottle on the table and have a swalley on me."
There were lots of hoots and hollers. It seems that the old fellow had been barred from the dance the week before for fighting and his wife only allowed him out of bed, as far as the hole, that night.
Annie and Reg King
Clarenville
The hole in the kitchen ceiling, what an inspired idea! I've seen many of those holes in Notre Dame Bay, on the Burin Peninsula, all over Newfoundland and Labrador. Once I almost fell through one. To have such stories—articulate, moving, surprising, and funny—gathered together in one volume is truly a work of art.

-- Helen Fogwill Porter --
In this ingenious collection, Anne Galway has gathered and preserved many delightful snapshots-in-time. Eavesdropping, secrets, accidents, spills—the stories range from the humorous to the dramatic and gather a poignant history-in-miniature of Newfoundland life...

-- Paul Butler --
Growing up in early to mid-twentieth century Newfoundland and Labrador is related evocatively and uniquely in Anne Galway\'s \"Stories from the Hole in the Ceiling.

-- The Western Star --
This treasury of stories reveals in glowing detail the unique character of Newfoundland and Labrador. Anne, a retired teacher, has seen the value of the fascinating education that can be gained through the hole in the ceiling.

-- Carbonear Compass --
The draw of [Stories from the Hole in the Ceiling] is its invitation into warm nostalgia of Newfoundland\'s past and makes for an easy read with each story penned by a different author, keeping perspectives fresh and different.

-- The Newfoundland Herald --
With lots of variety, it\'s more funny than not. Whether you grew up with a hole in the ceiling or not, you\'ll enjoy this collection.

-- PEI Guardian --
Shopping Cart
You have no items in your shopping cart
| | |
| --- | --- |
| Sub Total | $0.00 |
| Shipping | $0.00 |
| HST (0%) | $0.00 |
| GST | $0.00 |
| Total | $0.00 |
---