She Said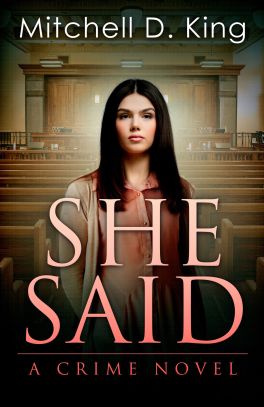 Mia Kennedy is a student at Holy Spirit High School with a loving family and a large group of friends. Robert Harris is a divorced trucker who works long and tough hours on the road, alone and desolate. Following one fateful night at a bar on George Street, St. John's, the two become entangled in a forbidden relationship.

Mia accuses Robert of four occurrences of sexual assault, and their relationship is dissected and put under a microscope during a three-week trial.

Is their union borne out of love? False pretenses? Violation? Spanning several years, She Said offers an intimate look into both Mia and Robert, the people in their lives who helped shape who they are, and how they came to a three-week trial at the Supreme Court of Newfoundland and Labrador.
"She Said turns readers into jurors at a gripping St. John's trial. . . . I thoroughly enjoyed how the story constantly challenged the reader's perception of innocence and guilt. As the story unfolds, the author plants doubt about the credibility of both characters, captivating the reader. The multi-perspective storytelling, using viewpoints from individuals such as George, Mia, the lawyers, and members of the jury, adds depth to the plot and maintains a fast-paced yet easy to follow story. . . . As the story evolves, the book has a very interesting commentary on the flaws of the criminal justice system and the impact of bias on people's minds. Through the portrayal of the courtroom proceedings, King explores the limitations and vulnerabilities of the legal system. The inclusion of the jury's perspectives and the compelling arguments presented by the lawyers effectively immerse readers in the case, allowing them to experience the story as if they were serving as jurors themselves. This choice of including legal language and proceedings made the story feel much more legitimate. . . . Additionally, while She Said tackles a difficult and sensitive topic, King handles it with care by focusing on the mystery surrounding the events rather than the acts themselves. This approach makes the story more palatable while still addressing the issues at its core. . . . Overall, King, who is a lawyer himself, created a wonderful balance between the mystery and the underlying themes, showcasing his storytelling abilities and ensuring that readers will be completely absorbed from beginning to end. This thought-provoking story will open up new perspectives for readers, and make them question their own bias."

-- Syd?ney Walsh, Atlantic Books Today --
Shopping Cart
You have no items in your shopping cart
| | |
| --- | --- |
| Sub Total | $0.00 |
| Shipping | $0.00 |
| HST (0%) | $0.00 |
| GST | $0.00 |
| Total | $0.00 |
---