Adventures of a Lightkeeper
A Memoir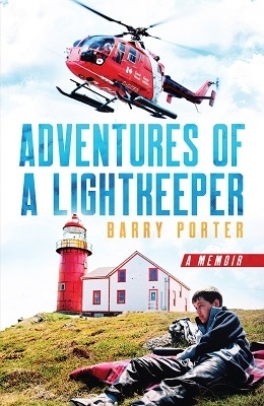 A lightkeeper was on watch.
For twenty-three years, Barry Porter worked as a lighthouse keeper with the Canadian Coast Guard on the northeast coast of Newfoundland and Labrador. His adventures began at Surgeon's Cove Head Lighthouse, which guided shipping to and from the busy ports of Botwood and Lewisporte. Barry also worked at the historic Long Point Lighthouse on Twillingate Island. He was the last lightkeeper to live in this majestic 146-year-old dwelling while working there. There, he observed some of the most dedicated hunters and fishermen in the world.
Barry had many close encounters with Arctic foxes, hungry polar bears, snowy owls, humpback whales, and towering icebergs. His journals describe the isolation, the history of the lighthouses, the hardy pioneers who first kept the light, marine rescues, near misses, and vicious storms. Completing this lightkeeper's tale are memories of the Canadian Coast Guard ships he worked alongside—including the Sir Wilfred Grenfell, Sir John Franklin, Sir Humphrey Gilbert, and Ann Harvey —the helicopters and technicians, rescues Barry performed while off-duty, and his efforts to rehabilitate a paralyzed beagle that lived with him at one of the lighthouses.
Someone once said we've all got a book in us. If so, my friend Barry Porter has a whole library's worth of stories to tell. He's simply one of the most interesting people I know. Farmer's son, photographer, outdoorsman, life-long amateur historian, devoted family man, and lifelong Dylan fan. Barry has also crisscrossed North America several times on his motorcycle. This son of Porterville, Newfoundland is also a regular radio call-in guest, and has appeared on television locally and nationally at least half a dozen times. When I worked at CBC, I used to joke that Barry had made almost as many on-air appearances as me. When Barry called me and told me he was writing a book, I wondered which one of his many interests he'd be focussing on, forgetting of course that he had been a lighthouse keeper for over 23 years. Get ready for a treasure trove of yarns from some of the loneliest and most beautiful outposts on Newfoundland's rugged coastline. From Long Point lighthouse to Bacalhao Island, you can almost smell the sea air and feel the stifling dampness of the fog as it closes in. This is an intimate look inside an important and demanding job that requires a tolerance for loneliness, isolation, and extreme weather. This is a writer in touch with the beauty and cruelty of one of the world's deadliest coastlines. This is also a story about what it takes to survive days of monotony when the weather closes in. Hint: it involves books, developing new hobbies, and developing a knack for performing surgery on oneself. Just a hint of what you can expect from what is hopefully the first of several books from my friend, Barry Porter.

-- Jonathan Crowe - Former CBC Here and Now co-Host --
There's a romantic resonance to the occupation of lighthouse keeper – I think it's a job many people have imagined doing. It doesn't seem like the kind of lifestyle one falls into: surely there is something intrinsic to the loneliness and resilience such a vocation required. Of course the reality is quite nuts-and-bolts, lots of record keeping and an incredible amount of multi-tasking. But, in Barry Porter's account, "Adventures of a Lightkeeper: A Memoir", it is kind of romantic, too. Even as he handled the many pressing, quotidian aspects of keeping the light, Porter's curiosity about the places he lived and the people he met there, his explorations of the natural environment around him, and his nonstop work ethic during 23 years with the Canadian Coast Guard, indeed led to many intrepid deeds.

-- Joan Sullivan - The Telegram --
This book was a relaxing and easy read, often enjoyed with a fresh hot brew, that opened my eyes to the adventures of remote living. Adventures of a Lightkeeper by Barry Porter is a great book that will whisk you away to another life, during another time when lighthouses were manned by adventure seeking, brave young souls who didn't mind being keepers of the light.

-- Stephanie Collins - Fireside Collections --
This book is, indeed, quite aptly named. It is a fun read, full of interesting stories interspersed with photos of Mr. Porter's time at various lighthouse locations across the province. In particular, I enjoyed hearing about his encounters with animals such as the arctic fox that he patiently fed until he could get close enough for a photo. And what a sweet photo it is! Mr. Porter met many colorful people during his time as a lighthouse keeper: hunters, photographers and even models. He took part in daring rescues, endured the fiercest of storms and even found love along the way. I have to give props to the author for, perhaps, the best proposal story I have ever heard. Nothing will ever beat that and I am so impressed with how well it was executed. That sort of creativity should definitely earn a resounding "yes!" A wonderful, exciting and fast paced book, "Adventures of a Lightkeeper" is one that I would recommend to anyone wanting an inside look into the life of the people who keep the light on.

-- Nicole Little - Review @ No Shelf Control --
The exploits and encounters Porter attends to during his time at post are keen observations manifested in clean concise writing that flows throughout the book. This is pure storytelling spanning the years from 1983 to 2006. If one wants to get close to what a keeper's life is like, this book will provide both the drudgery and excitement of both an occupation and that way of life.

-- RJ Heller - Lighthouse Digest --
Shopping Cart
You have no items in your shopping cart
| | |
| --- | --- |
| Sub Total | $0.00 |
| Shipping | $0.00 |
| HST (0%) | $0.00 |
| GST | $0.00 |
| Total | $0.00 |
---