Gower Street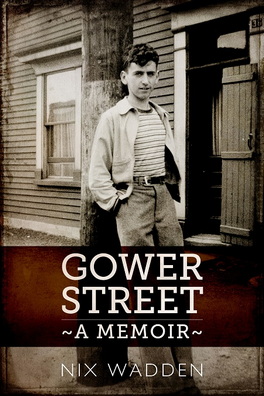 SOLD OUT
Gower Street is Nix Wadden's charming memoir beginning with his growing up in St. John's, Newfoundland, in the 1930s and 1940s. His tale is sprinkled with dry wit, highlighting the friendly invasion of American and Canadian servicemen on Newfoundland soil during the Second World War, during which time he attended St. Bonaventure's College under the strict tutelage of Christian Brothers. Between summering in Kelligrews with his family and beating the streets of downtown St. John's, Nix Wadden and his boyhood friends chased one adventure after another: hitchhiking across the province on a whim, cross-country skiing with the Newfoundland Hiking Club, playing intercollegiate sports—particularly hockey—and joining up with the First St. John's Boy Scout Troop. From there he leads into the 1950s and his university years, followed by his first job as a newspaper editor and eventually becoming one of Newfoundland and Labrador's pre-eminent journalists. At times a wistful remembrance of days gone by, while at others a laugh-out-loud recollection of a sometimes misspent youth . . .  
We are, we are, we are, we are, we are the engineers,
We can, we can, we can, we can demolish forty beers!
  . . . the story of Nix Wadden's formative years is a veritable who's who of Newfoundland in the years leading up to and immediately following Confederation.
I always thought with sour regret that our backyard had to be the tiniest in creation. It measured probably less than fifteen feet square and was overshadowed by a retaining wall protecting the quite sizable property of our Munn family neighbours. We seldom resorted to playing in it because of so little space, and nothing was grown there apart from some weeds. One object that did occupy space there was a long, tall ladder reaching three storeys up to the roof. But there was something wrong with that ladder. Rungs were missing just above the second or third ones at the bottom, so it was impossible for anyone other than full-sized adults, and very tall ones at that, to climb on. It must have been years later, after having long forgotten any urge to get up there, that I was told why it was so incapacitated. My mother painfully recalled one of her most gut-wrenching moments when she rounded the corner from Cochrane Street to Gower Street, after a short trip downtown, to hear her name called softly from way up in the air. Looking skyward, she was horrified to see all four of her children—this was before I was born—standing on top of the roof, calling happily out to her. It turned out that, while the maid left in charge was busily engaged in the basement kitchen, the four siblings had gone out playing in the backyard and, one by one, had climbed up the big ladder to the roof to see what they could see. Panic-stricken, my mother called on a Cochrane Street neighbour, Edward Kavanagh, for help. His yard bordered our backyard fence, and he lost no time in coming to the rescue. Rushing up the ladder, he somehow managed to round them up, grabbing the young ones tightly, one after another, and carry them safely down to terra firma, still excited but none the worse for their great adventure. When Dad came home, as fast as he could after being told what happened, he knew what he had to do. Seizing a heavy handsaw, he cut away four or five rungs of the culprit ladder, nevermore to be scaled by any of us. That altered ladder was still there the last time I saw it, before the house was sold in the 1970s. My siblings never told me about this episode while I was growing up but recollected it in later years, shaking their heads with mingled pride and wonder, how they could have been so reckless and unafraid when they were so little. Too bad no one got to take a picture!
Though specific to his life, Wadden has a knack for broadening stories to include many aspects of Newfoundland history. And even some things that could have only happened to him have deeper relevance. . . . This perspective, along with Wadden's brisk, evocative writing, apt and well-placed words and phrases, and his spirited nostalgic voice, make Gower Street an appealing and informative read.

-- Newfoundland Quarterly --
[Gower Street] is a feel good story that will have you laughing out loud at the wild freedom of youth and years gone by.

-- Newfoundland Herald --
Shopping Cart
You have no items in your shopping cart
| | |
| --- | --- |
| Sub Total | $0.00 |
| Shipping | $0.00 |
| HST (0%) | $0.00 |
| GST | $0.00 |
| Total | $0.00 |
---