The Puffin Patrol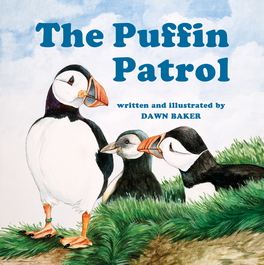 SOLD OUT
Adventures in bird rescue!
Susan and Ryan are excited to be helping the Puffin Patrol this summer in Witless Bay, Newfoundland and Labrador! On cloudy nights, baby puffins can be confused by lights on the shore and become lost on roads and in gardens. Join Susan and Ryan and the Puffin Patrol as they rescue these pufflings and release them back into the ocean.
With Dawn Baker's charming illustrations and lots of fun facts about cute-as-can-be Atlantic puffins, this delightful book will put a smile on children's faces!
A delightful, feel-grand read.

-- Newfoundland Herald --
Baker's latest children's book will surely tug at the heartstrings of young reader's and their parents. It provides a wonderful introduction to the work of the Puffin Patrol and contains fascinating and helpful information on puffins and some of the perils they face.

-- Atlantic Books Today --
In particular, the images of the puffins are beautifully rendered.

-- CM Magazine --
This is a charming and endearing book that educates and inspires

-- Canadian Children's Book News --
Baker does a superb job in combining the elements of the story while at the same time weaving tidbits of factual information throughout the plot. The simplistic presentation of both language and colorful illustrations will captivate an innately curious audience and makes the plight of these young auks both comprehendable, believable and worthy of saving. Promoting stewardship within our very youngest citizens, The Puffin Patrol will inspire children and adults alike to become citizen scientists in their own community. The Puffin Patrol is a great family read! It supports inquiry based exploration and encourages young audiences to ask questions and seek answers through actionable efforts. The "Did you know?" and "How can you help?" sections at the end of the book certainly encourages readers to think of ways that they can help vulnerable creatures in their own backyard.

-- Fireside Collections --
Shopping Cart
You have no items in your shopping cart
| | |
| --- | --- |
| Sub Total | $0.00 |
| Shipping | $0.00 |
| HST (0%) | $0.00 |
| GST | $0.00 |
| Total | $0.00 |
---