The Good Thief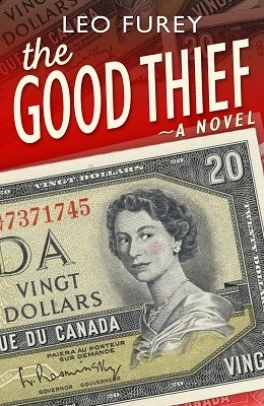 Set in and around St. John's, Newfoundland, in the late 1960s, The Good Thief is the story of eighteen-year-old Sonny McCluskey, the son of an eccentric father, a man on a mission. Like his hero, Robin Hood, Charlie McCluskey is hell-bent on justice for the poor, one day at a time.
Sonny's father dies, leaving him the family business, a small auto repair shop, and a long-standing family secret, with a summary of his unique philosophy on how to make money and do good.
Sonny promises to uphold the family tradition, but the more he discovers about his father's checkered past, the more difficult it becomes to keep his promise. Despite his good intentions, Sonny is drawn further and further into a dangerous underworld, forcing him to face some life-changing challenges he could never have foreseen.
"Leo Furey's The Good Thief is tension-charged, roaring with suspense. The plot runs like a speeding motorcycle on a twisting road. A cast of characters so rich and crusty and deep, you'll never forget them. Romance and bravery, criminal hijinks and high moral stakes, tender filial love, and a hunger for spiritual truth, all crashing up against rampant greed. Here are sticky fingers—pick this book up, you won't be able to put it down." — Lisa Moore
The Good Thief immerses the reader in an intense and complicated and authentic world, and from the first words the stakes for Sonny are high. It's Packed with cultural details, palpable environments, and fully realized characters. The narrative is part crime caper, or spree, part coming of age, and all good storytelling.

-- Joan Sullivan - The Telegram --
The Good Thief is a gem-dandy yarn

-- Harold Walters - Life on this Planet --
"The Good Thief" is an all-around excellent book. An eclectic cast of characters, an engaging plot and plenty of intrigue to keep you guessing and turning those pages, Furey has created a believable, multifaceted world that is delightfully Newfoundland-esque. The ending is quite bittersweet but I feel like it could not have gone any other way. I wish there had been more. Perhaps we might be lucky enough to get a sequel! I highly recommend "The Good Thief." It was an absolute pleasure to read!

-- Nicole Little - Review @ No Shelf Control --
You don't have to get far into this book to realize it's going to be good. Furey creates unique and compelling characters, people who are easy to love and those who are easy to dislike. You get a real Newfoundland feel in the setting. The dialogue is fitting for islanders and you feel like you're right there with them. A creative plot and a page-turning story. I didn't anticipate the ending but it works well and shows Sonny's inner strength and honesty. This is a fine novel. Well done Leo Furey.

-- Allan Hudson, The Miramichi Reader --
. . . It is such a pleasure to encounter a book which, by its very nature, resists categorization. Leo Furey's new novel, "The Good Thief", is such a book. Set in the 1960s, in Portugal Cove Newfoundland, this novel gives us the story of Sonny McClusky, a teenager who is about to graduate from a trade school with a certification in mechanics. He is on the verge of his first serious romantic relationship, he manages a band with the memorable name of Johnny Fabrella and the Acid Test, and he appears to be a young man with his whole life ahead of him. But naturally, not everything is ideal. In "The Good Thief" we are given a cast of characters who are rich, varied, and detailed. We have scenes that make us laugh out loud, scenes that invite us to examine moral and ethical dilemmas from various points of view, scenes that are exceptionally realistic . . . Like the film version of William Goldman's novel, "The Princess Bride", "The Good Thief" has a lot in it: romance, intrigue, suspense, counterfeiting, love, death, a Marxist instructor at a Trades School, a bodybuilding woman who wants to perform in a rock band, a commune of hippies, and much more. And somehow, all these things work together to result in a novel that defies categorization, but still works. I highly recommend it.

-- Trevor Sawler, The Nashwaak Review --
Shopping Cart
You have no items in your shopping cart
| | |
| --- | --- |
| Sub Total | $0.00 |
| Shipping | $0.00 |
| HST (0%) | $0.00 |
| GST | $0.00 |
| Total | $0.00 |
---