Operation Trafficked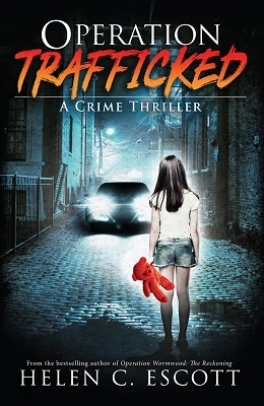 It is possible to get away with murder if you kill people whose lives are already devalued by society.
A spectacular murder in a downtown hotel of a sixteen-year-old girl brings together seasoned police officers Sgt. Nicholas Myra (Operation Wormwood) and Cpl. Gail McNaughton (Operation Vanished) in a Joint Forces Investigation. They quickly dive into a twisting, turning, breathless race through the $28 billion dollar business of human trafficking.
Myra and McNaughton put together a team of experts who explore this modern-day form of slavery, where women and girls are openly sold on the world's markets. They discover a sophisticated criminal organization that operates with impunity due to vast corruption and hides in the underground hallways of power. They quickly learn it's not the oldest profession but the oldest form of oppression. When the team learns a seven-year-old girl is up for sale, they race to find her before she is transported over the border and lost forever.
In her most thrilling novel to date, bestselling, award-winning author Helen C. Escott takes you on a lightning-paced, chillingly current criminal investigation that is surprising at every twist up to its astonishing conclusion.
"Tremendous read! Electrifying and riveting. Time is of the essence. Intense, fast-paced twists and turns transform sensation, horror, and emotions into the final links to solve the puzzles. Winding leads and modern-day policing techniques play crucial roles in the vital protection of these vulnerable women and girls purposed for human trafficking. Escott enthralls readers, revealing chilling real-life accounts of victim encounters. A brilliant, suspenseful read and gripping to the end!" — Chris MacNaughton, Inspector (Retired), RCMP
"Operation Trafficked is thrilling! The reader will have great difficulty putting this book down. Helen Escott shines an eye-opening spotlight on the disturbing world of human trafficking. She gives a voice to the voiceless and brings realistic awareness to this global issue. This book will forever change your view of sex work and the impact on its victims and their families." — S. C. O'Reilly, Superintendent (Retired), Royal Newfoundland Constabulary
Dedicated to the thousands of women and children who are trafficked everyday, Helen C. Escott crafts a story that is both shocking and gut wrenching. Told in the third person point of view, the author does a superb job at providing insight into the backstory of each woman, drawing readers into the plight of each of the female characters and elevating them to real people deserving of our empathy and support. Whether it's the young mother, herself abused as a child, and now sending naked photos of her 7 year old daughter to her unknown boyfriend in a foreign country or a young Russian teen who has just discovered she has become pregnant by one of her johns, readers will be sickened but also saddened that such a market exists in our very own neighbourhoods. Though the subject matter is heavy, there is relief! Throughout the narrative, Escott also weaves the continuing story of Sgt. Nicholas Myra, first introduced to readers in her first crime thriller Operation Wormwood and that of Cpl. Gail McNaughton, whose investigative skills are revealed in Operation Vanished. The duo and their team of cracker jack investigators are undaunted in their efforts to seek justice and in turn are able to provide closure to the families whose loved ones have gone missing. Readers will have a hard time putting this book down. Operation Trafficked by Helen C. Escott shines a very bright light on the heinous crimes that exist when a marginalized group are exploited for pleasure and gain. Kudos to this award winning author for giving a voice to the voiceless!

-- Stephanie Collins - Fireside Collections --
Operation Trafficked" is a fast paced, no holds barred thriller that lays bare the seedy underworld of sex trafficking and underaged girls. It is at times difficult and confronting to read. Escott does not tiptoe around the subject – we are presented with cold hard facts yet she puts a face to the statistics, its not just numbers, its not just data. These are daughters, sisters, little girls – and some are never seen again. When a sixteen-year-old girl is found murdered in a hotel room it sets off a series of events that brings together Sgt. Nicholas Myra (from Operation Wormwood) and Cpl. Gail McNaughton (from Operation Vanished) who join forces to not only capture the killer but to put an end to the shady practices of a local massage parlor, where young girls are brought in and forced into prostitution. Not only that, but there is also a race against time to rescue a 7-year-old girl who, accompanied by a neglectful and abusive mother, is about to be handed over to the mother's American boyfriend, a pedophile she has met online. As a mother of two girls around those ages, it is truly terrifying and emotionally harrowing. You will not be able to put this down because you absolutely need to know what the resolution will be. Escott does an unbelievably fantastic job stirring emotion in her readers. There was a lump in my throat and a ball of anxiety in my stomach as I read, knowing that this is so very true to life; fiction out of fact. Relentless in its pursuit of the truth, it is impossible to read this and not have it make a huge impact on how you view the world around you. With "Operation Trafficked" Escott continues to dominate the crime thriller genre.

-- Nicole Little, No Shelf Control Book Reviews --
With her fourth novel, Helen Escott takes us into a seamy underworld most of us are either unaware of or decline to think too much about. The story twists and turns to an ending that offers satisfaction but reminds us that victories are small and incomplete in this dark environment.

-- Northeast Avalon Times --
I thoroughly enjoyed this book. I found it quite interesting. It's so hard to believe that these things are going on EVERYDAY but no ones notices and we just go on day by day. Thank goodness there are people like her characters who care and try to help. The best book yet out of her series. I couldn't put it down.

-- Denise Whiffen, Goodreads March 9, 2022 (5/5 rating) --
I could not put this book down. It really strikes a chord that these things do happen. I felt so much emotions reading this book. You just have to know how it ends and the ending does not disappoint. I can't wait to read other books from this author.

-- Tracy, Goodreads April 27, 2022 (5/5 rating) --
I really enjoyed this book. The investigators were normal people who loved their jobs and were good at it. Human trafficking is so much more prevalent than the general population is aware. Vulnerable young girls are being forced into a life where there is no escape. The author's love of her province of Newfoundland is evident in her descriptions of this beautiful unique province. The brutality of human trafficking , child abuse , dementia, family life , work life corruption and loss are some of the topics discussed in this book. Depressing as these topics are the author has managed to have many light and funny moments. I definitely will be reading Helen C. Escott's other books.

-- Colleen Maclennan, Goodreads March 5, 2022 (5/5 rating) --
Shopping Cart
You have no items in your shopping cart
| | |
| --- | --- |
| Sub Total | $0.00 |
| Shipping | $0.00 |
| HST (0%) | $0.00 |
| GST | $0.00 |
| Total | $0.00 |
---