NL Snowmageddon 2020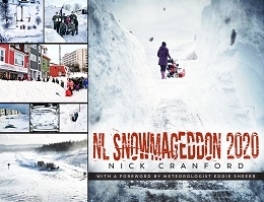 On January 17, 2020, Newfoundland and Labrador experienced one of the worst blizzards in its history. Life came to a screeching halt. Entire roads and cars were buried, people became trapped in their homes, and a week-long state of emergency was just one more surprise Mother Nature had in store for the people of the province. The record-breaking snowstorm, which the media labelled "Snowmageddon," came to test the resilience of Newfoundland. But as you will see throughout this book, Newfoundlanders are made of sterner stuff.
What makes a Newfoundlander? Newfoundlanders themselves are sometimes hard pressed to provide an explanation. But NL Snowmageddon 2020 gives us the answer once and for all.
"On January 17, the City of St. John's experienced an unprecedented storm. The snowfall that week left us with no choice but to declare a state of emergency, the city's first in thirty-four years. The week following was very challenging for residents and business owners in St. John's, with travel prohibited, then restricted, before the state of emergency could be lifted more than a week later. City snow clearing crews put in tremendous hours and effort to get our roadways clear and were supported in that work by municipalities from across the province, the provincial government, and private contractors. Our Armed Forces came to the aid of our more vulnerable, offering snow shovelling support, and the community rallied together to ensure that those in need had food and supplies as the days of the storm wore on.
I saw this city I call home in its worst state, certainly in my memory, but I also saw this city at its best during Snowmageddon—neighbours helping neighbours, communities playing in the snow, people advocating for the most needy. As mayor, I will forever be grateful for the extraordinary efforts of our staff during this significant event, those who came to our aid, and most of all to the residents and business owners for their resilience and strength." — Danny Breen, Mayor of St. John's
"Snowmageddon 2020 will go down as one of the biggest weather events we've experienced in Newfoundland in many years, certainly a reminder of the power of Mother Nature. I would like to focus on the amazing display of humanity and kindness that I witnessed throughout this whole ordeal. It was truly remarkable. With its many stories of camaraderie, resilience, and indomitable human spirit, Snowmageddon 2020 truly brought out the best in people and renewed my faith in humanity." — Paul Lane, Member of the House of Assembly, Mount Pearl–Southlands
Shopping Cart
You have no items in your shopping cart
| | |
| --- | --- |
| Sub Total | $0.00 |
| Shipping | $0.00 |
| HST (0%) | $0.00 |
| GST | $0.00 |
| Total | $0.00 |
---