Haunted Waters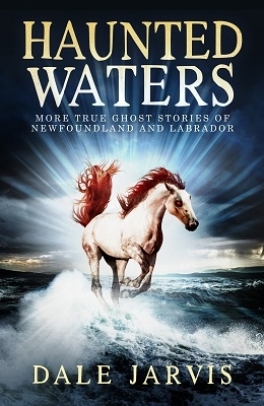 From an encounter with a shrieking horror on Signal Hill, St. John's, to the legend of the headless pirate of Red Bay, Labrador, folklorist Dale Jarvis conjures up stories of white horses, men in black, haunted punts, vanishing boats, and things that go bump in the basement.
With its tales of premonitions of death, eerie phantoms, and strange creatures, Newfoundland and Labrador is truly a haunted place. Beware, gentle reader! The unquiet spirits of dogs, wolves, little girls, ships, and soldiers drift through these pages. You may even run into the Old Hag herself, Newfoundland and Labrador's most infamous nighttime visitor.
Blending local history, folklore, eyewitness interviews, and archival research, Haunted Waters is the latest collection of ghostly tales from one of Canada's finest, and creepiest, storytellers.
Shopping Cart
You have no items in your shopping cart
| | |
| --- | --- |
| Sub Total | $0.00 |
| Shipping | $0.00 |
| HST (0%) | $0.00 |
| GST | $0.00 |
| Total | $0.00 |
---