Camp and Cottage Cookbook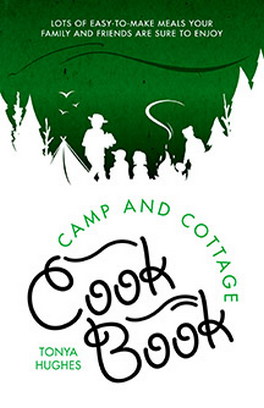 ---
---
192688177X
978-1-92688-177-5
---
Camp and Cottage Cookbook is the perfect companion for all your outdoor and cabin cooking needs! This book contains the essential information you will need to provide your family and friends with the fun, tasty, and easy-to-make meals they know and love while enjoying their home away from home. In addition to many quick and easy recipes that cover all the food groups and every meal of your day, this handy campground and cottage cooking guide includes:
step-by-step instructions on how to make delicious foods that are nutritionally sound;
tips on how to preserve your meats;
advice on maximizing your cooler space;
and lists of the best tools to bring on your trip!
This book is a must-have for campers, cottage-goers, and outdoor enthusiasts everywhere. Put it on your list!  
Clam Chowder Clam chowder is the specialty of Mark, a very charming fellow I knew in university. He always made it when trying to impress a lady. 4 slices of bacon, cut into matchsticks 1 large onion, finely chopped 6 medium potatoes, peeled and diced 1 carrot, peeled and sliced 2 cups milk (or ½ cup dry milk powder mixed with 2 cups of water) 1 6 oz (192) can of clams, juice drained and saved 1 tsp dry parsley flakes ½ tsp salt pepper to taste In a medium pot over medium heat, fry the bacon until crisp. Remove the bacon and set aside. Fry the chopped onion in the bacon fat until translucent. Add the potatoes, carrot, milk, salt, and clam juice and simmer for 15 min or until potatoes are tender. Finely chop the clams and add to the pot along with the bacon, parsley, and a little pepper. Serve with lots of crusty bread and a dry white wine!
One of the strengths of Hughes's book is its comprehensiveness; it covers the utensils and cookware you need (none of it complicated) to be well supplied. She covers coolers and refrigeration, and safe storage of food; but not in an over-detailed or overly simplistic way. I actually learned a few things. But the really nice thing about this book? It's the recipes, and they come from a person who obviously enjoys good food and eating well.

-- The Western Star --
A delightful little book.

-- The Compass --
[Tonya Hughes's] friendly and accessible book has many good ideas to liven up your camping menu and improve your camping experience.

-- Atlantic Books Today --
Shopping Cart
You have no items in your shopping cart
| | |
| --- | --- |
| Sub Total | $0.00 |
| Shipping | $0.00 |
| HST (0%) | $0.00 |
| GST | $0.00 |
| Total | $0.00 |
---