The Heart's Obsession
An Intimate Biography of Newfoundland Songstress Georgina Stirling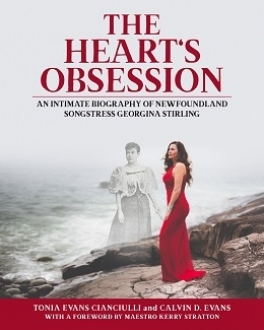 SOLD OUT
A standing ovation for Newfoundland's international superstar opera singer, The Heart's Obsession celebrates the historical ripple effect of one woman's voice—Georgina Ann Stirling—and brings her astounding legacy into the twenty-first century. Forging a musical journey from across the surging sea of Twillingate, this heroine conquered the hearts of audiences through Europe, the United States, and beyond. This is the definitive biography of Georgina Stirling.
The story of Georgina Stirling, who was also known as "Marie Toulinguet" and "The Nightingale of the North," is one of proud heritage and love of family, as well as adventure and tragedy. The authors take us on a thrilling journey to experience the love and loss that "Georgie" must have felt during the years of her meteoric rise to fame. Calvin D. Evans separates fact from fiction as he examines the trail of documents and artifacts left behind that tell the story of Georgina's life, while Newfoundland-born soprano Tonia Evans Cianciulli offers unique insight into the challenges faced by professional opera singers, both today and back in Georgina's time.
Brava to this nineteenth-century trailblazer, who anchored her province on the opera stages of the world!
"As an opera singer raised in Newfoundland with an international career, it's fascinating to gain such insight into our province's pioneer opera star, Georgina Stirling. Tonia's draw to Georgina and her own Newfoundland roots is a beautiful story to which I immediately connected. It's a reminder of the great privilege it is to call Newfoundland my home." — DAVID POMEROY, Newfoundland-born, Canadian Operatic Tenor
"As both a singer and a Newfoundlander, Tonia's writing in The Heart's Obsession sang to me in the story of two of our own finest vocalists separated by a century but bound by undeniable ties to their Island birthplace. Their careers have taken them around the world, but this is really the tale of how no matter where Georgina sang and Tonia continues to sing, they never really left Home at all." — ALAN DOYLE, Musician, Author, Actor
"The Heart's Obsession . . . tells the story of Georgina Ann Stirling, a long-forgotten opera singer from Newfoundland, whose career took her to both sides of the Atlantic. It also tells the parallel story of its co-author, Tonia Evans Cianciulli. . . . Meticulously researched, liberally illustrated and with great attention to detail, it is clearly a labour of love. . . . This volume is an important addition to our body of knowledge on the glorious history of celebrated Canadian classical singers." — JOSEPH SO, Opera Canada Magazine
Given what we do know, there's no doubt that Stirling deserves to take her rightful place among important Canadian pioneers, as one of the country's first classical singers of international fame. The Heart's Obsession is perfect for anyone interested in the history of singing in Canada.

-- Opera Canada --
Shopping Cart
You have no items in your shopping cart
| | |
| --- | --- |
| Sub Total | $0.00 |
| Shipping | $0.00 |
| HST (0%) | $0.00 |
| GST | $0.00 |
| Total | $0.00 |
---