Tonia Evans Cianciulli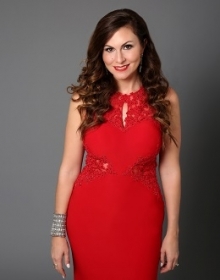 Soprano TONIA EVANS CIANCIULLI was born in St. John's, Newfoundland. She is honoured to have embarked on this passionate journey to revive the life and legacy of the late Newfoundland Nightingale, Georgina Stirling, alongside her grandfather, Calvin D. Evans. She has toured her concert program, Nightingale Sings, across the province of Newfoundland, and in cities such as Toronto, Ottawa, and Miami and beyond. In 2018 she was awarded a Canada Council for the Arts grant for this significant and historical work, and she is now a proud member of both the Writers' Alliance of Newfoundland and Labrador and The Writers' Union of Canada.
Tonia is a multi-faceted concert artist, performing her signature programs across North America and for niche events and fundraisers to rally support and encouragement within communities. She performs a wide variety of music, from opera to her own original music, and celebrates her roots covering the music of Newfoundland's late folk hero, Ron Hynes. Praised for the work she does to shine a spotlight on two of her province's most talented musicians, Georgina Stirling and Ron Hynes, Tonia has been featured in numerous interviews with CBC, SiriusXM, and Eastlink TV. Represented by Newfoundland's record label, Citadel House, Tonia will be releasing two tribute albums paying homage to Georgina Stirling and Ron Hynes, to coincide with the launch of this book. The Heart's Obsession companion album highlights repertoire most beloved by Georgina Stirling's Newfoundland audiences, and Beckon Me Home is reflective of the love and connection to our island home that shines through the poignant lyrics and melodies of Ron Hynes. Both albums will continue to feature spectacular music videos that highlight the stunning landscapes in Newfoundland and its beloved culture, filmed by Twillingate drone artist Julian Earle, like that of her video of Ron Hynes's "Marie."
In 2010, Tonia founded Wish Opera/Arts, a non-profit organization and community of supportive artists, in collaboration with Maestro Kerry Stratton and the Toronto Concert Orchestra. She has produced multiple fully-staged theatrical productions, concerts, and niche events that feature Canadian opera singers and artists.
Tonia shares behind-the-scenes aspects of being an artist in her "Artist's Spotlight," an interview series that shines a spotlight on leading Canadian artists to inspire and motivate others within their industries. Passionate about supporting artists to embrace their gifts and talents, she obtained her certification in Neuro-Linguistic Programming as an NLP practitioner and developed "An Artist's Journey," which offers programs, workshops, and performance series to artists of all genres, guiding them to develop and excel at achieving success and confidence throughout their artistic careers.
Tonia holds a Bachelor of Voice Performance from the University of Western Ontario. She trains vocally with Manny Perez in Miami and Brian McIntosh in London, Ontario.
With her husband, Frank Cianciulli, Tonia lives between Toronto, Ontario, and Miami, Florida. They are blessed with two beautiful children, Sophia and Anthony, which she homeschools while pursuing her musical endeavours.
Tonia returns to Newfoundland often to visit family and perform, and she never misses an opportunity to search for heart rocks on her favourite Newfoundland beaches. She encourages you to look for hearts in your everyday life. You can post pictures of them on Instagram and hashtag them #TheHeartsObsession.
You can find Tonia on YouTube: Tonia Cianciulli Wish Arts; Instagram: @toniacianciulli; Facebook: Tonia Evans Cianciulli Soprano/Author; Twitter: @WishTonia; and her website: www.wisharts.ca. You can contact Tonia directly at tonia@wishopera.ca for music or performance inquiries. Her albums will also be available online through all major streaming sites and available to order from Fred's Records: www.fredsrecords.com.
---
---
Related Products
discount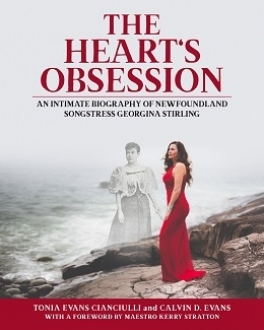 The Heart's Obsession