The Badger Confession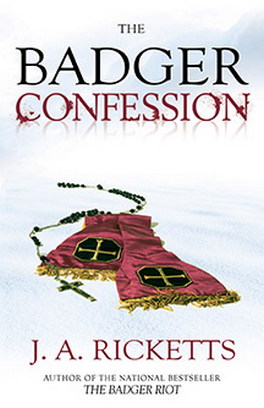 ---
---
1897317662
978-1-89731-766-2
---
"J. A. Ricketts's The Badger Riot is a rare combination for a historical novel: It is gripping and accurate. It is historical fiction done right." The Globe and Mail The loggers' strike of 1959 is over. Premier Joey Smallwood has decertified the International Woodworkers of America, branding them as outlaws and traitors for good measure. Many of Badger's residents have scattered to the winds under the weight of a feeling of guilt, shame, and loss. The unsolved murder of Constable William Moss has left an indelible mark in the history books of Newfoundland and Labrador. The Riot is over, but not for the town of Badger. The Badger Confession is the sequel to the National Bestseller The Badger Riot. It tells the story of the Riot's fallout over the next thirty years, of secrets that may never be revealed, and of small-town Canada's struggle to redeem itself when tragedy dogs its heels. #4 on the Globe and Mail (Historical Fiction) Bestseller List (November 13, 2010)
He was ushered through a door to the back of the mill offices, along a hallway and through a dark door. There were seven of them in the room with its panelled mahogany walls, plush carpet, a fireplace with gleaming brass fittings, and low lighting. Six of the men sat in deep leather armchairs, smoking and not speaking a word. No one introduced himself. He assumed, because they were on the mill premises, that they were A.N.D. Company personnel, but he never, from beginning to end, knew for sure.
His backseat companion settled himself at a desk with a lamp on it that had a green shade. "Sit down, please." Bill sat on the straight-backed chair in front of the desk. He was terrified and he knew that from the minute he had gotten into the back seat with this man, he had no control over the events that were unfolding. The man behind the desk came straight to the point. "Do you remember some years ago, Mr. Hatcher, when your son Walter got himself into trouble for shoplifting?"
Bill's guts turned to water. Oh yes, Bill remembered that for sure. Walt had gotten involved with a few hardcase boys and attempted to shoplift from the Royal Stores in Grand Falls. The things that he had been caught stealing made no sense: a lipstick, a cheap ring, a pack of gum, all of which he had enough money to buy. Bill knew nothing until he got a call from the police station and had to go down and bail his son out of jail.
There had been court work and, because it was his first offence, the judge had let him off with a fine, which Bill had to pay. However, the incident had left its mark on Walt and, because he was so shamed by the crime his son had committed, it had left a mark on Bill, too. He was always on edge that something else would happen again with Walt.
So, when the man behind the green lamp asked the question, Bill could only nod.
"We've kept an eye on him, you know. He seems to be the kind to easily get into trouble, don't you think?"
"What? What's this all about?" Bill blurted. My God, he thought, 
what's going on?
"Let me put that aside for a moment." His steely eyes looked at Bill, who could feel sweat breaking out on his forehead. "We need someone to do a job for us."
"What job?" Bill croaked.
"I'll be frank, Mr. Hatcher. We need an informer inside the IWA ranks, someone who can report back to us regularly. Someone who can seed certain suggestions into the minds of the strikers when we see fit to have it done."
Bill exploded, rising from his chair. "Goddammit, you want me to be a friggin' spy? No way! Them men is my friends. I can't do that, buddy." But a part of Bill's mind, his secret mind, was thinking, 
I knew I'd end up being someone special.
"You can, Bill – may I call you Bill? Oh yes, you can do that. If you do not, we will get your son into trouble and he'll get put in prison for a long time."
Oh God, oh God, oh God, Walt, foolish Walt, he can be talked into anything!
 Bill grabbed his head with his two hands, his eyes screwed tightly shut. He sank back down onto the hard chair. He wanted to scream and cry.
"Get a hold of yourself, Bill. This isn't so bad." That voice, that smooth, threatening voice echoed in Bill's ears. There was no refusing him. Bill knew that.
Bill opened his eyes and raised his head, saying, "I'll only do this for my son. I'm no traitor, you understand me?"
"Sure, sure," the man answered smoothly. "But you'll also earn a few extra dollars, and you won't mind that, will you, Bill?" Bill thought he heard a snicker coming from one of the armchairs.
"All right, then," the man continued, "that's settled. Here's what we want you to do first."
From that night onward, Bill Hatcher was caught neatly like a fly in a spider's web.
*****
The first order that Bill had been given that night seemed to be total nonsense. The A.N.D. Company was kicking up a big fuss about their workers not being able to get through the picket lines, about strikers blocking the roads on their private property, about damage to their snowmobiles and various sheds. They had the Mounties out all the time, investigating complaints. Various strikers were taken to court and fined.
Therefore, when he was told that they wanted him to incite the men, to fire them up, make them mad enough to actually travel across the frozen River and up into a woods camp and demolish it, Bill was shocked.
Forgetting the high company sitting around him, he had blurted, "But why? Why do you want to destroy your own property?"
One of the gents sitting by the fire stirred. Without looking at Bill he said, "By calling it our property, you assume too much, Mr. Hatcher. Content yourself with referring to it as property of the Anglo-Newfoundland Development Company, please."
Bill's head was spinning. He was in a room at the mill – A.N.D. Company property. Who were these men if not Company men? Well, not buddy who was sitting behind the desk, that was becoming clear. For some reason, he already knew he was something other than a Company man.
The fellow at the desk spoke again. "Your oath now, sir, that none of our conversation leaves this room. Your oath, on the life of your son."
Bill felt the noose around his neck tighten as he spoke. He looked into the light of the green lampshade, and without any emotion he said, "I swear that I will follow your orders without question and to the best of my ability."
"Good enough, then," the smooth, cultured voice continued. "We feel that this strike is dragging on long enough. Day after day of petty nothings! We need some action to wake up the Newfoundland people and the clergy and put them solidly on our side. Your own Premier is vacillating like a jackrabbit on a fence. We need him on our side, too, and this will make up his mind for him. And once he is on our side, and I assure you he will be, the province will go with him."
Shortly after that, Bill was hustled out into the car again, and up over the road. He was dropped off just before they got to the Highroad Bridge and had to walk the rest of the way home. His mind was racing and he needed that much time to get his thoughts in order to face his wife and family.
One of Ms. Ricketts' most remarkable skills as a writer is her ability to make her characters talk and act naturally; there is nothing stilted or artificial about them.

-- PEI Guardian --
With a nice touch for character, plot and dialogue, Ricketts is also able to deftly embed sequences of factual information . . . adding to the genuineness of the story.

-- The Telegram --
Boy, Judy Ricketts, you tell a good story.

-- Randy Simms, VOCM Open Line --
In a lot of ways, this is the perfect Newfoundland novel.

-- The Northeast Avalon Times --
As with its predecessor, many will be captivated by this rural history of a small town in Newfoundland and its people.

-- Atlantic Books Today --
Shopping Cart
You have no items in your shopping cart
| | |
| --- | --- |
| Sub Total | $0.00 |
| Shipping | $0.00 |
| HST (0%) | $0.00 |
| GST | $0.00 |
| Total | $0.00 |
---