The Badger Redemption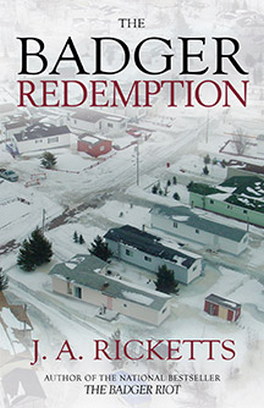 The Badger Redemption is the third and final instalment in J. A. Ricketts's masterpiece series that focuses on the far-reaching consequences of a small town's actions. As with some endings, this book also serves as the beginning of something new: a legend. Bill Hatcher's confession has set off a chain of events that has forced the residents of Badger, Newfoundland, to re-evaluate their own lives, and to question their place in this world . . . and the next. Constable William Moss is long dead, and his is one of many spirits wandering in unrest as Ralph Drum tries to reconcile the policeman's murder with new revelations in Ralph's own family. Redemption is at hand for Ralph, Jennie, and thousands of others whose lives were changed when the Riot claimed a victim. They will soon learn that, in Badger, even dead men tell tales. Let the legend begin . . .
Jennie stood outside of the house that had belonged to her in-laws, Suze and Albert Hillier. The man who owned it was tearing it down. Already the roof, the doors, and the windows were gone. Back in the garden she could see her own former house – hers and Tom's. It still stood in good condition. The older house had to come down because it had fallen into disrepair. She had come up here on Halls Bay Road in response to a phone call from Hubert McCarthy. After Tom passed away, Jennie had sold Suze Hillier's house to a family by the name of Edwards. Later, their son-in-law had bought Tom's house in the back. Now the years had passed and the older couple had both died. The son-in-law had decided to tear down the old house, to give the one they lived in a clear view of the Halls Bay Road, or the Trans-Canada Highway, as it was now called. The son-in-law, Hubert McCarthy, spied Jennie and climbed out of the remains of the old house to speak with her. He had a package in his hand. "Howya gettin' on, Jennie?" he queried as he approached. "The old house looks sad now that it's coming down, doesn't it?" Jennie nodded. "Albert Hillier built that house in the early 1920s. It must be almost eighty years old." She looked up the garden toward the other house. "Tom's and my house is holding up well, is it?" "Oh yes, maid, that's a strongly built, solid little house that you sold us there. I was actually thinking of putting another storey up on top of it." Seeing the expression on Jennie's face, as memories seemed to wash over her, he paused and cleared his throat. "I called you to come up here, Jennie, because I have something to show you." He handed her a package. "We found this under the flooring in one of the upstairs bedrooms. It's addressed to you." Jennie slowly took the package. Wrapped in oiled cloth, the package seemed to have stood the test of time. Who had put it under the floorboards? Was it Missus Suze? Jennie shivered. Suddenly, she was afraid to open it. "How do you know it's for me? Maybe Tom's mother left it for him." "Unfold it and look inside," McCarthy told her. Gingerly she opened the oilcloth and saw a thick brown envelope covered in plastic wrap. She could see her name clearly, MRS. JENNIE HILLIER, PRIVATE AND CONFIDENTIAL. "There's your name, Jennie." The man pointed to the envelope. "It must be yours. Turn it over. See there? It has one of those old-fashioned red wax seals on it." He laughed. "There might be a million dollars in there." An emotion that was never far beneath the surface welled up inside Jennie. Tom. Tom's writing! What did he leave for me? She looked at Hubert McCarthy. "'Tis Tom's printing, so I know there isn't any million dollars in there." Tears began to run down her face and a deep, heartfelt sob escaped her. "I'm sorry, Hubert, but I have to go. Thank you for finding this for me." She turned to go out through the gate, but stopped. "Hubert, was this found in the small bedroom on the back of the house?" "Yes my dear, that's exactly where I found it when I was taking up the flooring. My wife's mother had that for her sewing room." He cocked his head at the distraught woman. "Say, that was Tom's old bedroom, wasn't it?" "Yes it was." She looked down at the envelope and the oilcloth. "Yes it was. Thanks again, Hubert." She hurried to her car and got in. Through a haze of tears, she drove back down to Badger past her daughter's restaurant. Instead of turning to go up to her own house – she still privately thought of it as "Pap's house" – she turned toward the River. On the seat beside her was the package: a message from Tom that was more than twenty years old. She left the car and walked along the bank until she found a spot to sit down. For Jennie, and indeed for many Badger residents, the Exploits River drew them there in times of mental anguish. The great, deep, swift-flowing River seemed to be a repository for tears and sorrows. She slowly opened the package and took out the bulky brown envelope, wondering briefly where in the world he had found sealing wax. Perhaps it had been Mr. Albert Hillier's, his father's, who had been the railway agent. She remembered seeing sealing wax from years ago – a stick similar in shape to a candle, but dark red and hard. When a match was applied to the end, the hard red wax would melt and it would drip onto the paper. Quickly, then, one could press a seal into it – an emblem or stamp. Sometimes a signet ring could be used, but most people used a stamp.The blob of wax on Tom's envelope had no insignia. Instead there was a thumbprint. It had to be Tom's. Jennie ran her finger over it and again was gripped by a chill. What was Tom sending her from beyond the grave? There were several pages, all written on lined writing paper like the kind from an old-fashioned writing tablet. Tom's efforts at printing and writing were laborious, and Jennie could imagine him spending hours and hours fashioning this missive. She remembered the time he spent in the old house after his mother died. She had left him alone, thinking he was mourning his parents. Instead, Tom had been writing her a letter. Oh Tom, Tom, my poor, poor Tom. My Darling Jennie, If you're reading this, it means someone has torn down the old house and found it. Half of me wishes that it is never found but the other half, the half that would like to see our hometown of Badger absolved from all guilt of the cop's death, hopes that someday you'll get to read it. I am going to tell you right up front that I saw the cop get killed and I saw who killed him. I even saw him go into the Catholic Church a few days afterwards and I sneaked in after him. I saw him go into that little box and shut the door. Remember when I asked you one time all about how confession worked? Here's what happened . . .
Ricketts knows and loves the area, and she knows the people; her account of everyday life rings with observation and empathy.

-- Historical Novel Review --
The decisions [the characters] make and the crisis they face are realistic and believable, whether they concern opening a business, inciting a murder, or having an affair, and, though steeped in Badger's own culture and history, are relevant (and entertaining) to the wider world. And it all unfolds in Ricketts' warm conversational style.

-- Newfoundland Quarterly --
While the three books are best read in sequence, this latest one - and each of the others - can be read separately. By any standard, The Badger Redemption is a fine novel, which can even be enjoyed by those who don't like novels.

-- PEI Guardian --
Ricketts has written a wholly satisfying, wholly absorbing, final volume of a landmark trilogy.

-- Northeast Avalon Times --
Ricketts has stitched an incredible tapestry of events and characters, through a timeline predating the strike and moving towards the modern day.

-- The Telegram --
Shopping Cart
You have no items in your shopping cart
---
| | |
| --- | --- |
| Sub Total | $0.00 |
| Shipping | $0.00 |
| HST (0%) | $0.00 |
| GST | $0.00 |
| Total | $0.00 |
---