How Ya Gettin' On?
Snook Writes about Stuff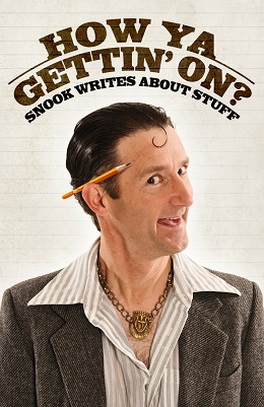 SOLD OUT
"HowYaGettin'On?" is how downtown St. John's, Newfoundland, corner boy Snook says hello. He's been hanging around, telling yarns, and having a laugh for over thirty years now, and this is his welcome for you to read all about some of that. Known as a fast talker and funny laugher, Snook finally jotted down some of his musings on . . . stuff—all sorts of stuff. Some of it's actually half-decent, as they say. So have a sit (wherever you please, or need to), relax your literary standards, and see what goes on in one of the most suspect minds and imaginations in this province. Culled from weekly columns written for the Newfoundland Herald, this collection is not half bad. Enjoy! And rrrright on!
Art of the Nap Howyagettinon? Y'know, if there's one thing I might have perfected in my mostly ill-spent time alive, it's probably how to enjoy and make the most of any chance to nod off. It's a great skill for improving your whole life experience, and not one to be taken lightly. Now, there are many who pooh-pooh the snooze or see it as pure laziness or lack of ambition—nothing could be more wrong, sir. To nap is to live, and to be able to do it quickly, successfully, and often is a gift. I think I got my love for forty winks from dear old Fadder. He could kip anywhere, any time, and doze off in seconds, no matter the conditions (in the rain, even!). He could also control the length of his nap like a champ, his brain-timer set instantly to match the span available—another talent not to be sneezed at. "Resting your eyes" efficiently is like knowing exactly how much gas your car needs to get you where you're going, or to the next convenient chance to fuel up. What a bonus! The most important factor in napping is when to go for it. You need at least fifteen minutes, and preferably no more than forty. Less can leave you crooked and wanting, longer risks ending up with the heebie-jeebie fog that can mess you up for an hour or more. Over time, with great discipline and practice, one can spot a window for some shut-eye a mile off. Look around the dentist's waiting room—if there's more than two people ahead of you, give 'er. The ferry is twenty-five minutes late? Shut the lids now, ol' man. Stopped in a highway construction zone? Off you go. The knack of napping any old place is a respectable skill. Some of my best naps are had sitting up, actually. I always wake up completely refreshed and clear-headed, for some reason, after nodding off whilst on my bummie-bum-bum. Airplane sleeps are, for some reason, especially rewarding. Of course, being on a plane is a licence to do whatever anyway, or to do nothing (again, not that napping is doing nada). A half-hour doze while in a chair in the sky is a wonderful thing altogether. Love to know why it's so joyful. Maybe the different air pressure or something? I dunno. But a sitting-up siesta, once you get the hang of it, always seems to work wicked. Maybe it's all down to having less blood in your head. I mean, sleeping upside down would never work at all, right? I can also nap on a table (school was the perfect training ground), on a floor, on the back seat of any car . . . I even drifted away up in a tree, one time. Tricky, with the gravity and all, though it was the nippers that finally drove me out of it. A boat can be a proper sedative, especially if it's small enough that you can feel some of that "rock-a-bye" movement. Give me the front seat in a Gander River boat on a sunny warm afternoon, and I'm gone in no time. Glorious. A hammock is probably my favourite spot, however, especially if I can sort out a way to keep it swinging a tad. A rope connecting it to a tree that's catching some wind works, or even the leash of a hyper puppy. Maybe give the kids in the yard next door some chocolate to keep them, and him, moving. The main point is that a nap is never time wasted. It's charging your batteries now, while you can, for later on, when you can't or don't want to. Very important, I figure, to use any available downtime for max benefit. It's not "goofing off." It's downright responsible behaviour, when you size it all up. So nap on, folks. Release your waking selves into the warm and cozy arms of buddy Morpheus—whoever he is. A rested mind is a ready mind. A little lie-down can be a dream. Right on.
Fit to eat.

-- Dougie --
Producing a column so frequently and on such a range of subjects is no easy task, and the calibre of the writing is consistently good.

-- The Telegram --
Shopping Cart
You have no items in your shopping cart
| | |
| --- | --- |
| Sub Total | $0.00 |
| Shipping | $0.00 |
| HST (0%) | $0.00 |
| GST | $0.00 |
| Total | $0.00 |
---