Challengers of the Sea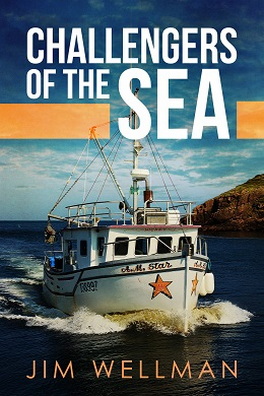 Challengers of the Sea brings you face to face with men and women who take on the best and the worst of what the Northwest Atlantic Ocean offers. Read gripping accounts of losing sons, husbands, fathers, brothers, and best friends to the ravages of unforgiving seas.
Meet others whose lives have been touched by the sea in a variety of ways. Learn about a woman who pilots a Beechcraft airplane, looking for everything from icebergs and whales to those who contravene Canadian laws affecting waters off the east coast of Canada. And meet an artist who uses her craft to send a message of the need to conserve ocean life.
You will also meet two men who work hard in different ways to make the fishing industry in Atlantic Canada safer. And learn about coping. When the bodies of loved ones lost at sea are never recovered, there is no closure for those left to grieve in silence after the rest of the world moves on. Theirs is a special kind of heartbreak.
Praise for Jim Wellman "Wellman does a wonderful job of describing the rough but rewarding life of those who rely on the ocean to make a living, and the fickle and unpredictable nature of the Atlantic Ocean." — Northern Mariner
Inspirational stories about the heroes that protect those that make their living on the ocean.

-- The Navigator --
Jim has added a new dimension to the lives of those who may not otherwise get the recognition they deserve

-- Ray Andrews --
From the first page to the last, I couldn't stop reading.....Jim lets the survivors and their families tell their stories their way, in their own words

-- Denny Morrow --
With this book Wellman continues his probing, thoughtful coverage of an industry he knows so well yet remains so curious about.

-- The Telegram --
The author's stories are as captivating as they are varied.. the author goes well beyond reporting the facts of the story, taking readers beyond the headlines..

-- Nor'Wester --
Stories of tragedy, loss and mystery turn this book about the unforgiving seas into a must-read

-- The Newfoundland Herald --
Challengers of the Sea, written by Jim Wellman, brings you face to face with the men and women who have taken on the best and worst of what the Northern Atlantic Ocean has had, so far, to offer. I couldn't put it down.

-- Bonnie Kogos, Sudbury Star --
Shopping Cart
You have no items in your shopping cart
| | |
| --- | --- |
| Sub Total | $0.00 |
| Shipping | $0.00 |
| HST (0%) | $0.00 |
| GST | $0.00 |
| Total | $0.00 |
---