Saku's Great Newfoundland Adventure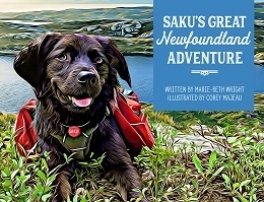 SOLD OUT
Believe in yourself and you will be unstoppable. At times while crossing Newfoundland I felt like giving up, especially after some close calls. But in life you can either lose faith or keep believing that you will make it, no matter what. Dig deep, work hard, and stay safe in your adventures! — Justin Barbour
Saku, a young Cape Shore water dog, is skilled and strong with a lot of exploring to do. Watching him bound around the backcountry or swim behind Justin Barbour's raft, you just know that he is ready to go on a long adventure! Together with Justin, Saku is going to cross from Robinsons in western Newfoundland to Cape Broyle, where the province's eastern shores meet the Atlantic Ocean. Using a satellite phone, they inform everyone back home how they are doing as the months speed by.
What will Saku and Justin find as they travel 700 kilometres through thick woods, across icy lakes, on wild rivers, and catch trout for fresh food? Following in Saku and Justin's footsteps, young readers will learn how to start a campfire, make a warm bed of boughs for chilly nights, and live as friends with nature.
After a snowy start, the two pals soon travel faster and make new friends as they emerge from the wilderness in the little towns of St. Alban's and Conne River. Excited children, townspeople, and Chief Mi'sel Joe and his family all welcome them warmly. Saku's pack is soon filled with new kibble, and the pair continue eastward. Even Bear, Saku's doggy friend who remains at home, can hear Saku's excited bark when Justin calls home on his phone! Finally, as they near Cape Broyle, Saku and Justin can hardly believe the welcoming party gathered near the beach.
A cheer goes up! They are home again with many adventures to share with their friends!
Shopping Cart
You have no items in your shopping cart
| | |
| --- | --- |
| Sub Total | $0.00 |
| Shipping | $0.00 |
| HST (0%) | $0.00 |
| GST | $0.00 |
| Total | $0.00 |
---