Murder on the Rock
True Crime in Newfoundland and Labrador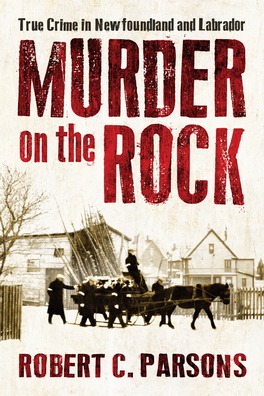 SOLD OUT
The story of Newfoundland and Labrador is a long and bloody one. In Murder on the Rock, Robert C. Parsons describes some of the most horrific and puzzling crimes and shenanigans that have happened in this province. With tales of kidnappers, cold-blooded murderers, cannibals, and more, these fifty-nine stories of crime and punishment cover the 1700s to present day. Included are:
Death at Saint Pierre
Politics and Murder
Mutineers, Villains, and Cowards
The Death Ritual
A Crime Most Frightening
The Signal Hill Prison Break
Rampage and Mutiny in Harbour Buffett
The Bonne Bay Hostages
Death at Beaumont
The Decapitation of John Ball
Eleanor Power: The First Woman Hanged
  . . . and many more!
"Manslaughter at Horse Cove"
Horse Cove —renamed St. Thomas in 1922—lies a few kilometres outside St. John's. At the end of the fishing season of 1883, several seamen were heading home from St. John's to Horse Cove and nearby Broad Cove. Before they reached there, at the intersection of Broad Cove Road and Portugal Cove Road, a vicious argument broke out which led to murder. Levi King and George Squires, both of Broad Cove, and Michael Whelan, of Horse Cove, were fishing with Captain Joy in the Strait of Belle Isle in the fall of 1883. When the season ended and the vessel landed in St. John's on Saturday, October 6, all three made their way home from St. John's. Michael Whelan's people were among the first settlers of Horse Cove, a community now amalgamated with St. Thomas into the town of Paradise in 1992. Squires travelled with Whelan and his wife in a cart. On the way, Whelan and Squires had a long and violent argument—what was described after as "a wordy battle." Squires jumped out and proceeded on foot. At the junction of Broad Cove and Portugal Cove roads he caught up with fellow fishermen Levi King, Stephen Squires, and Richard Tucker. On Broad Cove Road, Whelan again began arguing with George Squires and Levi King, but there was no physical violence yet. Just before King reached his home, Whelan attempted to pull him from his cart but did not succeed. This incensed Whelan. King went into his house and embraced his wife. George Squires followed King and went into King's house for a friendly visit, perhaps a cup of tea before continuing his journey home. Angry and frustrated, Whelan brought his own cart opposite King's gate and called out to King and Squires, taunting them to come out and saying he would fight either of them or both. King went out to the gate and exchanged blows with Whelan. Snatching up a hatchet handle from Whelan's cart, King struck him once with the stick. King ran into his house with Whelan in pursuit. George Squires attempted to stop Whelan but couldn't. Whelan pulled a sharp object from somewhere on his person, stabbed King near the door, and slashed Squires. King staggered into his house, leaving a trail of blood along the hallway and on the floor. King's wife followed him into their home and caught him as he staggered across the floor. He said to her, "I am gone. I am killed." He never spoke again, dying four or five minutes later in his wife's arms. Levi King had received two wounds, the fatal one in the lower part of the stomach. Both were made with a sharp instrument. Squires was stabbed in the side with a similar object. He was rushed to a St. John's hospital, where he slowly recovered from his near-fatal wound. At 10:30 p.m. Saturday, Police Inspector Paul Carty received news of the stabbing. Carty, a tireless and meticulous investigator, had been a member of the Royal Irish Constabulary. In 1873, he immigrated with his family to Newfoundland when Newfoundland's justice system asked him to come. He was then appointed Chief Inspector of the Newfoundland Constabulary. As soon as word of King's violent death came to his office, he and constables Alfred Rees, Squires, Noseworthy, and Murray travelled along Topsail Road for Horse Cove. When they arrived at Whelan's house, Carty knocked on the door and asked Mrs. Whelan for admittance but was refused. The door was forced and the accused was found in bed. He was arrested. Carty searched for the murder weapon and found a jackknife with blood on it. One of Carty's police escorted Michael Whelan back to St. John's for incarceration. After Inspector Carty left for Horse Cove, Judge Daniel Woodley Prowse, accompanied by Head Constable Sullivan, left for Broad Cove to examine the area of the assault and to take statements of the wounded Mr. Squires and the victim's wife, Mrs. King. When Prowse arrived at Levi King's house, he found that King had already succumbed to his injuries. He immediately proceeded to the house of Richard Squires, the father of the wounded man. Doctors Shea and Howley came from St. John's, examined Squires's wounds, and held a post-mortem examination of the deceased man. On November 21, a grand jury of eighteen men met in St. John's under the direction of Chief Justice Sir Frederick B. T. Carter to determine if there was enough evidence to try Michael Whelan for homicide. If so, he would be tried for either murder—planned and with malice—or manslaughter. The latter, a less serious crime, is committed without forethought and is considered a crime of passion. After instructions and guidance on the nature of the Broad Cove murder, the jury returned in a short while and determined Whelan would be tried for homicide. The Supreme Court trial began on the morning of November 28, 1883. Chief Justice Carter, assisted by Justice Robert John Pinsent and Justice Joseph I. Little, presided for the Crown. Lawyer Robert John Kent defended the accused, Whelan. The jury was selected from a pool of twenty-seven St. John's men. By November 30, the trial ended and the jury deliberated for an hour and fifteen minutes, finding Whelan guilty of "manslaughter, without mercy" and sentencing him to life with hard labour in the St. John's Penitentiary.
An easy read and one that I could not put down.

-- Edwards Book Club --
The stories in Murder on the Rock have been developed by a keen eye that serves up details and facts mustered from lengthy research. This collection combines history and story in an easy to read, educational way that shows the author's love of Atlantic history and the individual human stories that complete it."

-- Atlantic Books Today --
Parsons tells these stories in a matter-of-fact way and with enough context and colour to capture the reader's interest.

-- The Chronicle Herald --
Prepare to be entertained and, perhaps, shocked, by this riveting collection of murderous accounts.

-- Burton K. Janes Blog --
Expertly researched and easily read, each story contained within the pages leads the reader into a fascinating exploration of the history of the underbelly of Newfoundland and Labrador. The sea and hardships are central figures in each of the stories. Stories set in a time and place that was so often unforgiving when it came to day to day subsistence.

-- Atlantic Books Today --
Shopping Cart
You have no items in your shopping cart
| | |
| --- | --- |
| Sub Total | $0.00 |
| Shipping | $0.00 |
| HST (0%) | $0.00 |
| GST | $0.00 |
| Total | $0.00 |
---