Alone on the Trail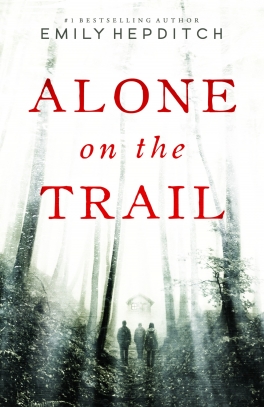 From the #1 bestselling author of The Woman in the Attic.
Four best friends. One wrong turn. One hunting shack hidden in the mountains.
Best friends Sadie, Julie, Morgan, and Jonah decide to spend a week backcountry hiking in western Newfoundland, tackling a remote thirty-kilometre route through the Long Range Mountains. Zealous, rambunctious, and overconfident, they embark on their self-proclaimed adventure of a lifetime in Gros Morne National Park. That is, until things start to go wrong. When the friends stumble upon an illegal hunting shack, they witness a horrific crime that leaves them with dangerous knowledge. Injured, separated, and hunted by two expert poachers, the companions must find a way to get back home before they succumb to the dangers of the trail—and to each other.
Alone on the Trail will keep you reading late into the night—and make you think twice before wandering, unprepared, into the wilderness.
Organized into 13 parts as opposed to traditional chapters, Hepditch utilizes her creative license to cleverly detail a tightly woven tale in the form of a series of first person character monologues. This organizational technique is central to the development of the four characters, allowing readers an opportunity to really get to know the internal conflict that each character brings to the developing storyline. Struggles with acceptance, dealing with loss and abandonment, and narcissistic jealousy and gaslighting are revealed bit by bit over the course of the story, revealing just enough for the reader to gain an accurate understanding of the growing tension experienced by the four friends as they attempt to survive while on their "trip of a lifetime". By divulging the frailties of each of the characters in such a way, readers will discover that they themselves experience responses ranging from happiness, to disappointment, excitement and anger. The struggles are real and relatable and the experience of riding that rollercoaster of emotion is palpable. Alone On The Trail by Emily Hepditch is a must read!! This riveting account has great cinematic appeal and one that I would sure love to see in living color!

-- Stephanie Collins - Fireside Collections --
"Taut with suspense, "Alone on the Trail" will have you holding your breath until you see just who will make it out of the woods alive … if anyone does at all. With an ending that will leave you reeling, this book is a cannot miss for 2021.

-- Nicole Little - Nicole's Reviews --
This strong follow-up to Hepditch's debut, "The Woman in the Attic" proves she's no one-hit-wonder. She's setting standards ( and a schedule ) for an accomplished output.

-- Joan Sullivan - The Telegram --
"I picked up Alone on the Trail, about four friends deciding to take a seemingly safe backpacking hike in the backcountry of western Newfoundland. As soon as I met the four characters and began to understand them, my reading became intense, fascinated, as they encountered each other and . . . well, just buy this book, and plan to spend a weekend encountering their dangers, making your own assumptions, and hanging in to the end. Thank you, Emily Hepditch. I am eager to read your next book!"

-- Bonnie Kogos, Sudbury Star --
Awesome thriller, very relatable and easy to read. I recommend!

-- Mallory Hicks, Goodreads June 28, 2022 (4/5 rating) --
Hard to put down; engaging book about how the unexpected can happen when on the trail!

-- Lori Anne, Goodreads February 18, 2022 (5/5 rating) --
Fantastic, couldn't stop reading it! Her first novel was great, and this one surpassed that! Looking forward to whatever she writes next

-- Roxanne Franklin, Goodreads January 28, 2022 (5/5 rating) --
Emily absolutely nailed this book. It was one of those, can't put down, binge read all night type of books and I devoured it in a matter of hours. The plot was believable and I enjoyed being able to get a glimpse into each characters mind. I loved that it was set in Newfoundland and gave an accurate description of the landscape of the trails. Overall a great thriller!

-- Rachelle Anne, Goodreads January 11, 2022 (5/5 rating) --
Shopping Cart
You have no items in your shopping cart
| | |
| --- | --- |
| Sub Total | $0.00 |
| Shipping | $0.00 |
| HST (0%) | $0.00 |
| GST | $0.00 |
| Total | $0.00 |
---