The Sign on My Father's House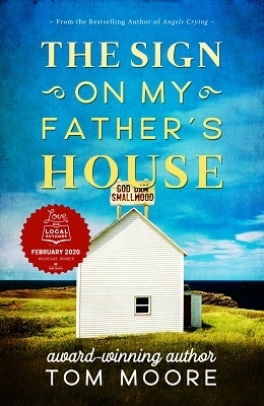 "Felix, you are a dreamer. I used to be, too, but there's no payoff in it."
Felix Ryan, from Curlew, Conception Bay, has been in love with the enigmatic Ellen Monteau ever since the day he met her in school at Smallwood High. Friends and family try to warn him that she is nothing but trouble, but she is Helen of Troy and he longs to be her King Menelaus . . . or Prince Paris. Meanwhile, trouble is brewing at home, as Felix's father erects an enormous sign on his house condemning Premier Joey Smallwood—much to the chagrin of his family and their Liberal neighbours in the early days after Confederation.
This is the uproariously funny and at times heartbreaking tale of a young man's rough ride into adulthood. Felix Ryan is on a journey to discover who he is and where he is headed. He moves from rural Newfoundland to the hectic life of Memorial University in the late 1960s. It is a world of music, girls, and new experiences. Felix's world is changing as the Joey Smallwood era comes to an end. But Ellen Monteau never strays far from his mind. Ultimately, he must choose between continuing his education on the mainland of Canada, or putting down roots at home in Newfoundland.
The Sign on My Father's House marks Tom Moore's triumphant and long-anticipated return to literary fiction. It is a story about finding your voice and putting up your own sign about who you are and what you believe.
 Winner - 2020 #NL Reads - Love Our Local Author
https://www.youtube.com/watch?v=3-afGXGvx14
It reminds you that sometimes life can take its own turn and we just have to except it for what it is and find a way to go on. A very enjoyable read overall.

-- Edwards Book Club Reviews --
"The Sign on My Father's House" reads so authentically, it feels like a memoir. It's relatable, briskly paced, moving, and funny. If your'e looking for a good story this is a good story ( with a kicker last line).

-- The Telegram --
"This is the funny and at times heartbreaking tale of a young man's rough ride into adulthood. Felix Ryan is on a journey to discover who he is and where he is headed. He moves from rural Newfoundland to the hectic life of Memorial University in the late 1960s. . . . A timeless, delightful novel for all ages."

-- The Miramichi Reader --
". . . packed with believable people, and their flaws are what make them lovable. . . . Tom Moore's first book in 15 years is certainly well worth waiting for

-- The Northeast Avalon Times --
Tom Moore has a certain presence in Newfoundland and Labrador literature. The Sign on My Father's House speaks to the power and blindness of love, the value of resolute convictions, and the irresistible pull of home on the wayfaring soul. But there is humor too and a light-heartedness that balances the pain of the characters' personal struggles. The opening scene sets the narrative register of the novel, one in which realism is overlaid with romanticism. This continuous tension between the real and the romantic is played out in the various signs that we encounter in the novel, not the least of which is the one that gives rise to the novel's title. The sincere, impassioned tones counterpose the romantic dreamscape of Gone with the Wind and form the thematic core for Felix's struggle towards moral and intellectual maturity. His acquiescence to his father's heretical political statement and his enchantment with Ellen at school become poles of opposite values in this novel. Caught in the middle, he fails to take a definitive stance in the early chapters and drifts on the capricious winds of happenstance that take him to St. John's and Memorial University. One wonders at this point if Moore would like us to think that Smallwood's vision of Newfoundland lay in the same category of illusions as the utopian dreams and images that gave rise to Dick's dolls and Ellen's vision of White's as her own colonial kingdom. Smallwood's work was seen by some as a nightmare and by others as a dream-come-true. Moore allows these two perspectives to reside ambiguously in Felix's thoughts, since he sides rhetorically with his father, while venturing farther out into the bustling world that Smallwood built, including to his inspirational university in St. John's. At a dance at Memorial's student center one night, Felix hears a band fronted by a beautiful woman, Laverne Squires, and almost immediately he feels he has touched the pulse of a new kind of life. I think this is Moore's middle-ground that permits Smallwood's world a certain degree of legitimacy in the face of Felix's own romantic visions. Eventually, Ellen unexpectedly reappears at MUN, Dick having died in a robbery at White's, and pursues Felix, knowing he will inherit the store from Clara. Here, we come upon an important point Moore makes in the novel, one that alludes to the eternal mystery of love and its inexplicable, irresistible power. How do we explain the light covering of pixie dust on everything when we are in love? Why can't Felix see past the romanticized images of Ellen? When his friends confront him with Ellen's duplicitous nature, he explanation is vapid at best. We might think throughout that Moore's artistic images and signs function only to represent deception and false values. But, most of them actually allow us to see the real characters behind their artistic representations. For Moore, it seems truth can be represented through art even more so than through law, politics, or other ideologies. Moore has done well with Felix, and the novel has won a number of popular awards, testimony of his close connection with his readers. This connection with the hearts of his readers over the years will ensure that he remains in their consciousness for some time to come.

-- Ed Balsom – The Antigonish Review – Winter 2021 Edition --
Shopping Cart
You have no items in your shopping cart
| | |
| --- | --- |
| Sub Total | $0.00 |
| Shipping | $0.00 |
| HST (0%) | $0.00 |
| GST | $0.00 |
| Total | $0.00 |
---