One Brave Boy and His Cat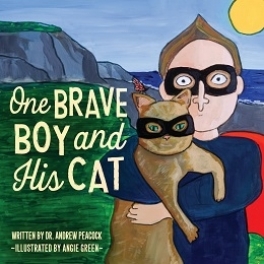 A book for pet lovers everywhere!
One Brave Boy and his Cat is the tale of a child facing one of the hardest realities of pet ownership. Nick's family brings their cat to a veterinarian after it has been hit by a car. When they find that their pet has been badly hurt, the boy and his family must make a difficult choice. Nick surprises everyone with the bravery of his decision.
"One Brave Boy and His Cat is an important book for every child who has a pet. Andrew Peacock, Newfoundland's favourite vet, tells the story of one brave boy coming to terms with the death of his beloved cat. With compassion and grace, Peacock shows how children can be given the responsibility of deciding when it's time to let go." — Charis Cotter, Award-winning author of The Ghost Road.
"It is never easy to say goodbye. One Brave Boy and His Cat gently and lovingly captures the experience of losing a beloved family cat. In addition to the difficult decision to euthanize a pet, parents are often burdened with the worry of their child's reaction. This illustrated story shows what commonly happens with honest and empathic discussion." — Margie Scherk, DVM, Dip ABVP, Editor, Journal of Feline Medicine and Surgery.
There's a butterfly — a Monarch? — on every page. It flies in front of Susie before she's stuck down. It hovers above Susie spread on the examination table. It flutters in Brave Boy Nick's face as he hears the vet's sad news. It pitches on the roof of the family car for the ride home.

Ah, the butterfly, a symbol, I s'pose, of fate, of transformation, of … of what? … reincarnation p'raps? A symbol even a youngster will understand.

One Brave Boy and His Cat is a story about accepting the loss of a beloved pet and the suggestion — that friggin' butterfly, eh b'ys? — that pet lovers will always get another pet to love.

-- Harold Walters --
One Brave Boy and His Cat has been re-read many times since it first came into our home last week and since it is a children's book I thought I would share what my own two daughters had to say: 4 year old: I feel bad that they don't have a pet anymore. I hope they get a new pet! I was so excited that my name was in it! 9 year old: I thought it was very sad. But it also tells children what to do if their pet is or animal is hurt very badly. I like that the little boy wasn't upset and that he dealt with it all very calmly. Overall, a fantastic book to add to your collection especially if you have a pet at home! And even if you don't it is still a wonderful story for children (and adults!) of all ages.

-- Nicole - Goodreads --
Shopping Cart
You have no items in your shopping cart
| | |
| --- | --- |
| Sub Total | $0.00 |
| Shipping | $0.00 |
| HST (0%) | $0.00 |
| GST | $0.00 |
| Total | $0.00 |
---