Millions of Souls
The Philip Riteman Story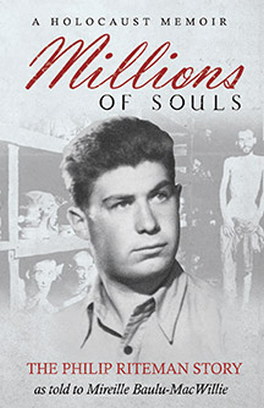 ---
---
1897317786
978-1-89731-778-5
---
Philip Riteman is a Holocaust survivor whose mission is to educate today's youth on the atrocities committed against millions of Jews and Gentiles by Adolf Hitler's Nazi regime during World War II. From the Pruzhany Ghetto, Poland, Philip and his family were deported to Auschwitz-Birkenau. There, his entire family was exterminated. As the lone survivor, Philip was used as a forced labourer in five concentration camps, where he witnessed the cruellest treatments that can be inflicted on human beings: degradation, dehumanization, starvation, hard labour, daily beatings, torture, and deliberate, cold-blooded murder.
Millions of Souls is told in three parts. First is Philip's account of life in his hometown and as an eyewitness to the struggle for survival in the concentration camps. Second is the story of Philip's exodus to Newfoundland after the war, where he discovered that there was still some humanity left in the world. Third is the story of Philip Riteman today, and his commitment to spreading his message: "Hate destroys people, communities, and countries. Love binds us all together and makes a better world."
Philip Riteman's story was recorded by Mireille Baulu-MacWillie during a series of interviews at Philip's home in Nova Scotia, Canada.
#1 on the Chronicle Herald(Nova Scotia) Bestseller List (January 9, 2011) World French-language rights sold to Bayard Canada
A stirring account . . .

-- Bedford Magazine --
Anybody who has heard Riteman speak, and thousands of schoolchildren and adults have, will recognize that the voice is his own and that he does, indeed, \'put a face on this part of history.

-- The Telegram --
Shopping Cart
You have no items in your shopping cart
| | |
| --- | --- |
| Sub Total | $0.00 |
| Shipping | $0.00 |
| HST (0%) | $0.00 |
| GST | $0.00 |
| Total | $0.00 |
---