In Search of St. Nicholas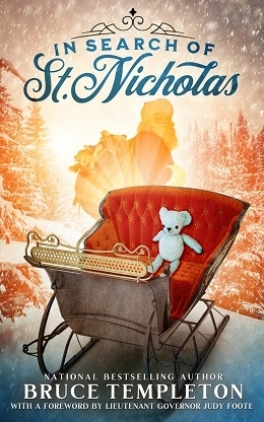 Bruce Templeton has been assisting Santa in St. John's, Newfoundland and Labrador, for almost forty years. He completes almost fifty visits annually—from parades to hospitals, and seniors' homes to special events. He has had over 1,500 visits with Santa.
Now, you can join him on a uniquely special journey in this book. Not only will you travel back in time to witness how many of our Christmas traditions became conventional, you will also get to follow Bruce's own personal journey as he shares important lessons learned through assisting Santa.
Bruce Templeton has authored three memoirs of his experiences assisting Santa, including the Globe and Mail bestseller The Man in the Red Suit, The Man with the White Beard, and Twenty-Four Teddy Bears. He is the only living Canadian Santa inducted into the International Santa Claus Hall of Fame. He is also a Knight of St. Nicholas.
"I was in the hospital room with Nevaeh the day after the Santa Claus Parade. We heard Santa's bells coming down the hall, and he walked through the door with a big box. Nevaeh's two eyes lit up, in awe and magical wonder. It was Santa, the real Santa, and he had come to see her!" — Holly Denine, mother of Nevaeh Denine
"Not only will this book help you better understand the season, it will help you to better appreciate it. And we could all use a little more Christmas magic, couldn't we?" — Mark Critch
"Grab a tall glass of milk, a slice of gingerbread, and snuggle up with your family as you take a trip back in time in search of St. Nicholas." — Toni-Marie Wiseman
Shopping Cart
You have no items in your shopping cart
| | |
| --- | --- |
| Sub Total | $0.00 |
| Shipping | $0.00 |
| HST (0%) | $0.00 |
| GST | $0.00 |
| Total | $0.00 |
---