Corner Boys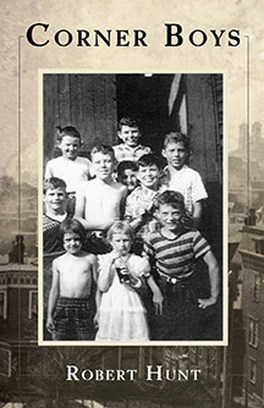 ---
---
1926881508
978-1-92688-150-8
---
Corner Boys is Robert Hunt's memoir of growing up on the mean streets of St. John's in the 1950s and '60s. Within the working-class neighbourhoods that are central to this tale, trouble seemed to lurk behind every corner, ready to be found by those who were looking for it. This dark yet humorous coming-of-age story follows a young and mischievous boy along the sidewalks and into the backyards of a turbulent—and sometimes violent—city.
Many of the stores on the Water Street of my day now exist only in memory. There was Parker and Monroe's shoe store, which sold shoes of "all shapes and sizes," as their window sign said. Variety stores like The Big Six, and The Arcade, owned by former St. John's Mayor John Murphy. Templeton's paint shop was a downtown fixture and it still is. Dickie and I delivered paint for Templeton's on foot for years to different areas of St. John's, before they bought a delivery van, around 1960. Ayre & Sons was a big, family-owned store in the heart of Water Street.
Bowring Brothers was another one, providing shoppers with every modern item, things that couldn't be found anywhere else in Newfoundland. The store had two levels, with two sets of stairs. Bowring's was always trying to outdo Woolworths with respect to pricing. It was the first business in St. John's to have parking on top of the building. Bowring's served some of the best food, bar none, that one could ever eat in St. John's. Mrs. Jean Abbott from Conception Bay South ran Bowring's restaurant, the Captain's Cabin, for many years. It had a fantastic view of the harbour and was considered a fancy restaurant, but the prices weren't high. Everyone went there. Their hot turkey and hot roast beef sandwiches were second to none in St. John's. A specialty was pork chops; no one made pork chops like they did. The desserts were beyond compare; I particularly remember their butterscotch pudding and cobbler pie.
I remember when the London, New York and Paris, another landmark store, first opened its doors. The building it was in was constructed after the fire of 1892, and first housed James Baird, a fishery supply and general import business. My mother shopped at the London many times over the years. Money was always in short supply, of course, so Mom was always very thrifty, as mothers were in those days. She bought shirts, shorts, underwear, socks, etc., at the London and the Arcade because they had better bargains than most of the stores on Water Street. I seemed to be always trying on clothes at both stores when I was with Mom. My brothers and I were all about the same size, so I got to be the family mannequin—she would get me to try things on, and gauge whether they would fit my brothers. But I didn't mind: I knew there would be a treat at the end of it. We usually ended up at Marty's Restaurant for a snack so she could rest before the walk home to Brazil Street.
At its height, Woolworths, which opened in the early '60s, was the most modern store of its kind in the province. It had some of the first escalators in Newfoundland, and also one of the first PA systems; you heard the latest hits by the top artists—Elvis Presley, Neil Diamond, Roy Orbison, Peggy Lee, Tammy Wynette, The Beatles, The Rolling Stones, The Dave Clarke Five—while you shopped. Of course, the very top band of the day was The Beatles. I worked at Woolworths part-time during my school years, and I used to ask the person on the third floor who controlled the music to play their songs over and over. Beatlemania arrived in Newfoundland in 1963. The Beatles' music was everywhere. Around the same time, a song called "The Monster Mash," by Bobby "Boris" Pickett, made it really big—it was the most popular song on the airwaves and in the store for a full summer. As a young child, it was a special thing to go shopping with my mom or dad in the evenings. When my brothers and I tagged along downtown, we knew that we would receive a treat. Of course, we had to tag along with our parents anyway, to help bring home the packages. Dad always made us go with Mom while he was working, because of her heart condition. She wasn't allowed to go anywhere alone, especially to Water Street, because she wasn't able to carry parcels up the steep hill of Casey Street on the way back to the house. For me and my friends, Water Street was not only a place to shop, it was somewhere we could earn money. I worked part-time at Woolworths from 1963 to 1965, and I have many fond memories of manning the candy counter. In the first six months of that particular stint, I gained about ten pounds, since I frequently sampled the merchandise. My boss at the time was a rather unsavoury person named Mr. Church. He was a smart business person, but very mean when it came to the customers. One woman used to frequent the store regularly with her three kids, and she always came to the candy counter. I would always add a few extra candies to the bag, because she couldn't afford to spend much money on her children. At least I did until Mr. Church found out and put a stop to it. No money, no freebies. But I found a way around that: I slipped the extra candy into her shopping bag when he wasn't around. To hell with Mr. Church and his rules! Dickie and I made deliveries for The Big Six. We received a dime or a quarter, depending on how far we had to walk to deliver the merchandise. We always had to bring back a note signed by the customer indicating that they had received the goods. After we showed the note, we could collect our delivery fee; this was the store's way of making sure we hadn't ripped them off. We also shovelled snow for The London, New York and Paris, The Big Six, Woolworths, and smaller stores. It would take us two to three hours to clear the sidewalk in front of Woolworths, which was 150 feet long and ten feet wide. The Arcade was next to Woolworths, and its sidewalk was about twenty feet long. Next door to The Arcade was The Big Six, which had a sidewalk approximately the same size as The Arcade's. The London's was between sixty and seventy feet long. We had no set price for this work and considered ourselves lucky to make a couple of dollars. Money in one's pocket was a rare thing in those days. We considered ourselves especially lucky when Woolworths hired us to shovel snow. Usually we were treated to a free meal in their restaurant and given $2. We were grateful for the food and the money; there were few ways for young boys to make a couple of shekels in those days, and we could never have afforded anything on the menu. We were always hungry. When you needed shoes in St. John's in those days, you went to Parker and Monroe's on Water Street. They had every shoe imaginable, and they always stocked shoes that were the shoe "craze" at any particular time. Everyone—men, women, and children—wore John Whites back then. John White's were British Oxford-style shoes, and they were tough but comfortable. You could have a pair of John Whites for about six years before they started to wear out, and then you passed them down to a younger brother or sister, and he or she probably got another year or two out of them. When our John White's did start to wear, we took them to Jack Kidney's shoe repair on Brazil Square, and he would put new soles and heels on them. If I am not mistaken, Parker and Monroe sold the first Beatle boots, which were a craze in the early '60s. I bought my first pair of loafers, which is something our family could never afford, when I worked for Woolworths. If you wanted good value but didn't have much money, The Arcade was the place to shop. The owner, John Murphy (former mayor of St. John's), was always there to help and to talk to the customers. He was a very friendly, easygoing man. I went there often with my mom. One day she wanted wallpaper for our bedrooms, but she didn't have enough money for the amount of wallpaper she needed. A salesman asked her where her husband worked. When she said "CN," he let her have the wallpaper on credit. Try that today! In those days, your word was your bond, and people trusted one another. Another store we frequented was Bon Marche. It sold the same kinds of things as The Arcade, but of a lesser quality. Sadly, all these stores, except Templeton's, have now passed into history.
Corner Boys is humourous and enjoyable. It evokes, not just the historic past of a part of a city and an era, but the emotional and psychological past of childhood and adolescence.

-- Newfoundland Quarterly --
This remembrance concerning growing up and 'knocking around' with friends around the area of Casey Street/McKay Street/Brazil Street actually compares favourably with Mordecai Richler's 'The Street' and Frank McCourt's 'Angela's Ashes.'

-- The Western Star --
This is one of the best books about growing up — and being a kid — that I have ever read. It moved me even more profoundly than 'This Boy's Life' by Tobias Wolfe.

-- The Western Star --
Shopping Cart
You have no items in your shopping cart
| | |
| --- | --- |
| Sub Total | $0.00 |
| Shipping | $0.00 |
| HST (0%) | $0.00 |
| GST | $0.00 |
| Total | $0.00 |
---