A Whale of a Tale . . .
With Hooks, Lines and Singers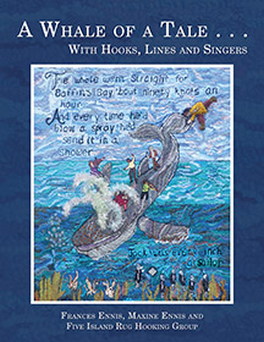 ---
---
1926881389
978-1-92688-138-6
---
In A Whale of a Tale . . . With Hooks, Lines and Singers, members of the Five Island Rug Hooking Group have combined their expertise in design, colour, texture and rug hooking techniques with the power of song. This potent combination of creativity has resulted in thirty-five pieces of textile art that have been inspired by the sounds of music, the stories in the lyrics and the emotions evoked by both. A Whale of a Tale . . . With Hooks, Lines and Singers began as a rug hooking project organized with Festival 500 Sharing the Voices to showcase a passion for music and song, for the visual and performing arts, and for the storytelling tradition. The project evolved into a beautiful book that follows the progress of the rugs and tells the stories behind each one. Throughout the various sections of the book are practical instructions, with accompanying photos, on how to create exquisite hooked rugs. Frances and Maxine Ennis have been creating originally designed hooked rugs since 2002. Their rugs tell a story about who they are as individuals, where they come from and what they cherish about life and living in Newfoundland and Labrador. These sisters-in-law have enhanced their relationship and their rug hooking skills together and separately by attending workshops, courses and conferences, teaching rug hooking classes and collaborating on rug hooking projects. The Five Island Rug Hooking Group formed in 2008. The core group consists of about twenty girls and women, with another ten to twelve becoming involved in projects of particular interest to them. The group specializes in creating one-of-a-kind, originally designed story rugs related to a theme.
"My grandmother hooked mats. They were not works of art, but they looked pretty good to me. They consisted of garlands of unlikely flowers around a light surface, which, I think, had a pattern stamped on it; the wools were precut. They disappeared after my grandmother grew too infirm to hook, and my father's income improved; this was about 1940. The [rugs] shown in the books reviewed today represent much higher levels of artistry and general attainment than my grandmother's. For one thing each is hand-designed. The materials are, some of them home-dyed, and come from raw sheep's wool to old T-shirts, and everything in between. Some are collaboratively made, with even the occasional man or child taking a part. They come in all sizes and many shapes.

-- PEI Guardian --
Shopping Cart
You have no items in your shopping cart
| | |
| --- | --- |
| Sub Total | $0.00 |
| Shipping | $0.00 |
| HST (0%) | $0.00 |
| GST | $0.00 |
| Total | $0.00 |
---