Unveiled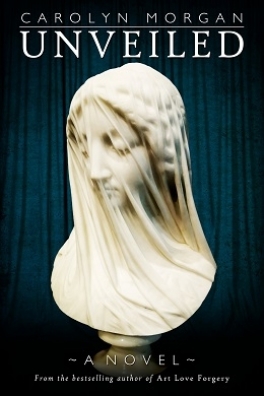 The Louvre has the Mona Lisa.
Canada has the Veiled Virgin.
In the twenty-first century, Rebecca Howell is transfixed by the beauty of Giovanni Strazza's masterpiece the Veiled Virgin. The sculpture was created in Italy in the mid-1800s but is housed at the Presentation Convent in St. John's, Newfoundland. Its existence is one of the best-kept secrets in North America. Rebecca can't help but wonder why in 1856 the Italian artist allowed such a brilliant example of his work to come to this remote island.
She discovers that although the work is signed by Strazza, it is not listed with his other sculptures, and there are no existing documents for the sale of the work. Rebecca travels to Italy to solve the mystery. Her research on Strazza and the Veiled Virgin will be the subject for her doctoral degree in art history.
Rebecca's search is a labour of love as it takes her across the majestic cities and countrysides of Italy—from Milan to Rome, from Florence to Vinci, and finally to Piedmont, where her answers await. Her journey becomes one of self-discovery as the Newfoundland-Italy connection deepens and the mystery about the model who posed for Giovanni Strazza unfolds . . . along with the legacy she left.
Morgan builds a mystery within a sensory tour of the Italian landscape.. Morgan beautifully rolls together elements of history, travel, art and mystery.

-- Awards East Review - Atlantic Books Today --
Shopping Cart
You have no items in your shopping cart
| | |
| --- | --- |
| Sub Total | $0.00 |
| Shipping | $0.00 |
| HST (0%) | $0.00 |
| GST | $0.00 |
| Total | $0.00 |
---