Townies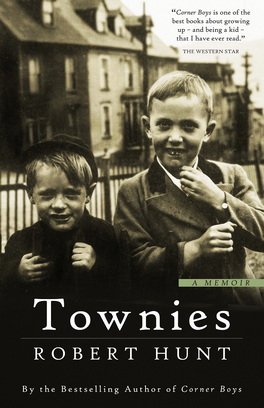 SOLD OUT
Townies is the sequel to Robert Hunt's memoir Corner Boys and takes us back to the mean streets – and schools – of St. John's in the 1950s and 1960s. This is a coming-of-age story about the friendships between young Robert and his fellow students of Holy Cross School, who often lived in fear of punishment from the Irish Christian Brothers who taught them. Poverty and iron-fisted authority ruled supreme in the lives of the boys from Brazil Street, and the pleasures they knew were simple and fleeting. With a complement of interviews with his former Holy Cross schoolmates, Robert Hunt paints a picture of days gone by that are funny and nostalgic for some, while painful and haunting for others.
"Miss Playboy Comes to Holy Cross"
  Although
Playboy
had been around since 1953, I had never heard of it. The idea that someone—Hugh Hefner—would put out a magazine with pictures of naked women in its pages was beyond the limited imaginations of St. John's Catholic boys in 1963. My classmates and I had entered puberty and had been warned of the crimes of masturbation and looking at pictures of half-naked women. We were led to believe that such acts would lead to an automatic excommunication from the Church and separation from God. We would rot in hell. One day in late spring, Paddy Dunne brought a
Playboy
magazine to school with him. As soon as it entered the room, every boy in class knew about it and was enthralled by it. We had never seen any near-naked women in our young lives and we didn't know what to think. The magazine made its rounds around the classroom, much to the delight of the thirty or so boys hollering and whistling before class started. As soon as Brother Boone came into the classroom the noise came to an abrupt halt and Miss Playboy had managed to disappear. "What is going on here?" We didn't answer Brother Boone. He looked around the class before speaking again and picked out a boy he knew would probably tell on the rest of us. All classes had their snitches. "Burkey. Come up here." Harry looked up in fright, not happy that he had been selected by Brother to squeal on the class. He squirmed in his seat. And then he got up and walked, head down, to the front of the class and stood next to Brother. "What was the laughter about before I came into class?" Paddy was rigid with fright. He knew Burkey couldn't keep a secret. He was squirming and wriggling in front of Brother. He shot me a look. Brother was getting agitated as he waited for his reply. Brother Boone's stare unnerved him, although he was trying to act as if it didn't. "It was nothing, Brother. It was just me playing the fool and joking. I'm real sorry if I was too loud." To our surprise Burkey had managed not to squeal this time, even though he had been risking punishment. Brother Meaney had disciplined him once before for clowning around in class. Brother Boone seemed to accept his explanation. He told us to open our books to a certain page and get ready for class. We did it eagerly. He didn't have to tell us twice. Where the
Playboy
ended up no one knew except the one who was harbouring it. Halfway through class I noticed that Phil Summers was sweating like a pig and guessed that he was the one sitting on top of the magazine. He kept staring at Brother, knowing that if he got caught with it he was in a big heap of trouble. Now, Brother Boone was a pretty good guy, as Brothers went. He treated us well, and though he did strap us from time to time it was always for a good reason. He was a good teacher and a decent person. We liked and respected him. In all the years I was at Holy Cross I never heard of him hurting or molesting any boy under his care. He was accused of wrongdoing during the Hughes Inquiry, but the boys who accused him were found guilty of perjury. A boy came to the classroom and asked Brother to come to the main office, which was a few feet away from our classroom in the basement. Brother told us to study a certain page. He'd be back soon. After he left,
Playboy
magically appeared from under Phil's backside and started making the rounds of the boys who had yet to see it and wanted to know what all the excitement was about. It was a bad decision. I remember saying, "Boys, you should put that away before Brother comes back and catches you with it." Boys were grouped around the desk that held the
Playboy
and they didn't notice Brother Boone's return. I can still see the hurt look on his face when he realized what his students were looking at. I can also recall his calm voice, which sounded like it was announcing the death of a friend or family member. "Please bring that up to me at once." Not one of the boys moved. The silence was deafening. It was so quiet you could hear the traffic outside on Patrick Street. Brother Boone shouted this time. "Now!" One of the students picked up the magazine, walked to the front of the class, and handed it to Brother. Brother nodded his head toward the desk, saying, "Do not pass me that filth, just lay it on my desk. Face down." We realized at that instant that we should have dumped the magazine, thrown it out through the window. You could hear a pin drop, it was so quiet. There was no way out of this one and we all knew it. Brother Boone spoke again. "I am leaving the classroom for ten minutes. When I return I want the name of the student who brought that garbage into my class, or this class will stay in here all night until I find out who is responsible. Do you all understand me?" We nodded. We knew we had really hurt Brother Boone and we also knew that someone was going to pay dearly for that. He was thoroughly angry when he left the class. When he was gone we looked at Paddy, who had turned white, grey, and a few other colours none of us had ever seen before. Not a word was spoken until everyone's breathing returned to normal. Then a discussion took place. To Paddy's credit, even though he was terrified he said to us that he would confess to Brother that he had brought the book into the classroom. His dad was a prominent businessman and we knew he'd probably kill Paddy when he found out about what had happened. We discussed the options, but there really weren't any: Paddy would have to own up. When Brother came back into the classroom, he was about to ask again who was responsible when Paddy stood up and said, without a tremor in his voice, "It was me, Brother. I brought the magazine to class. I'm sorry. None of these guys had anything to do with it. I took it from a friend's house." It was a display of bravery that not too many boys our age would have made. To admit that you did something wrong in those days to any kind of authority figure meant you were risking a beating or worse. All eyes were on Paddy and instant heroism was bestowed on him. What he did took real guts. I think even Brother Boone was impressed. He said, "Paddy, when class is dismissed this evening you are to wait here in this room. Principal Larry will be making a visit and you will tell him and me why you would bring such a magazine to this school." Paddy nodded his head. Brother looked at us and then he began the longest half-hour of punishment in the history of pornography punishments since the beginning of time. Geography class had been completely forgotten. He told us about the horrors of
Playboy
and its owner, Hugh Hefner; what it represented, and how being a good Christian did not include bringing such a filthy magazine to school; how it would surely poison our young minds. Our parents, he said, would be as shocked as Paddy's when they found out about what had happened today, learning that their sons' minds had been exposed to such garbage. Good young Christian men, Holy Cross Crusaders, did not read such filth. By the time he was finished he had nearly all of us, including myself, crying and begging the Lord for forgiveness. Paddy just sat there stone-faced. It was obvious that he wasn't listening to what Brother was saying. He was thinking about his parents and what they would say and do to him. He knew that this day was probably going to be the longest day of his young life so far. We left class feeling unworthy of the Lord and sorry for poor, sick, demented Paddy, who had to face the wrath of the Brothers and his parents for what he had done. Paddy, who might never find redemption in his lifetime because he had brought a
Playboy
to school. He was, we thought, condemned to live a life of begging the Lord for forgiveness and on his way to hell. We found out later that he was severely scolded by the Brothers for his wrongdoing, but none of them hit him. When he arrived home that evening he had been severely beaten by his father for bringing public disgrace upon himself and the family. Brother Larry had phoned Pat's father and told him that his son was a sick individual for trying to lead his fellow students into the pits of hell. No wonder his father beat the crap out of him. Back then Catholic parents thought that if a Brother got in touch with them to say what a horrible child they had, then there must really be something wrong with their offspring. Everyone knew that a man of the cloth was always right. Paddy had obviously committed the crime of the century. Regardless of his fall from grace, he remained our hero for taking full responsibility for what he had done. To us he was a real man. Some of the Brothers could have taken a lesson from him about what being a man was all about.
I found this book a most enjoyable read and very insightful. As I would be referred to in this book as a "bayman" not to be trusted, this book gave me great insight in to the lives of townies. At the end of the book I realized that perhaps townies and baymen are more alike than not. I would highly recommend this book – it's a great read.

-- Edwards Book Club --
[Robert Hunt's] writing is a combination of grittiness and tenderness that rings as true as your friendly neighbour who shovels out your driveway after a snowfall and looks a little embarrassed when you thank him.

-- Northeast Avalon Times --
Shopping Cart
You have no items in your shopping cart
| | |
| --- | --- |
| Sub Total | $0.00 |
| Shipping | $0.00 |
| HST (0%) | $0.00 |
| GST | $0.00 |
| Total | $0.00 |
---