Man And Dog
Through the Newfoundland Wilderness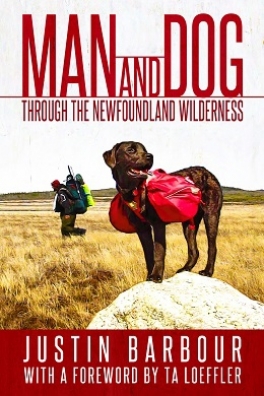 One man, one dog, a grand adventure across the Newfoundland wilderness.
In April 2017, Justin Barbour and his Cape Shore water dog, Saku, arrived in Robinsons, on the Rock's west coast, where they began a quest to experience the province's woods and waters first-hand. A late winter lingers as they push over the Long Range Mountains to the interior of the island, where they hope thawed lakes and rivers will allow them to continue by inflatable raft. From sunrise to sunset, follow the companions as they battle the dangerous and unforgiving elements to reach Cape Broyle, some 700 kilometres away.
Here you will see the island in a unique way, learn about outdoor life, and gain awareness of Newfoundland's natural history. Complete with colour photos, maps, and interesting facts about the journey, Man and Dog will offer you the heat of a campfire against your cheeks, the tug of a trout on your line, and the breath of a curious black bear that has wandered into your camp. It's a journey for nature lovers, explorers, and adventurers of all ages.
"Man and Dog is a must-read for everyone who feels the pulse of the wild, especially Newfoundlanders who love the land and waters. Justin Barbour has that spirit of adventure and self-reliance that is becoming much more rare in modern society. This book gives us all a glimpse into wilderness travel that most of us will never experience ourselves." — Paul Smith, Educator, Outdoor Writer and Photographer
"Justin and his story are truly the essence of what it means to be an adventurer. His love for Newfoundland and Labrador, his passion for exploration, and his dedication to challenging himself form a recipe for inspiration, and an example for what human beings can achieve." — Ray Zahab, Adventurer, Explorer: Royal Canadian Geographic Society, Founder: impossible2Possible
The elongated journey spanned two seasons, interrupted now and then by early spring snow, cold temperatures, an assortment of wildlife encounters, physical and mental fatigue… but Justin's positive character pushed all the negative impacts away, like a true Newfoundlander—complete with a beaming smile.

-- Kevin Callan, explore-mag.com --
Shopping Cart
You have no items in your shopping cart
| | |
| --- | --- |
| Sub Total | $0.00 |
| Shipping | $0.00 |
| HST (0%) | $0.00 |
| GST | $0.00 |
| Total | $0.00 |
---