Kathrine E. Bellamy, RSM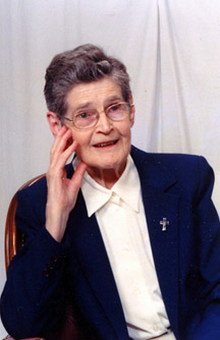 Kathrine E. Bellamy, RSM, was born in Bay Roberts to parents William and Katherine (O'Flynn) Bellamy and had one brother, William. Sister Kathrine received her early education at St. Matthew's Anglican School. At the age of twelve, she boarded at St. Bride's College, Littledale, St. John's, where she completed high school and then went on to Mount Saint Vincent University in Halifax. When she was eighteen, she entered the Congregation of the Sisters of Mercy of Newfoundland. After her profession, she was assigned to Our Lady of Mercy School, Military Road, St. John's, where she began her career as a music teacher.
Sister Kathrine is recognized mainly for her work with the school choirs at the Immaculate Conception Academy, Bell Island, and at Our Lady of Mercy School and Holy Heart of Mary High School, St. John's. Under her direction, Our Lady of Mercy Glee Club received many awards, and it was the first Newfoundland choir to win the Mathieson Trophy for the best junior choir in Canada. By coincidence, one of her former pupils, Margo Cranford, is the publisher of two of Sister Kathrine's books, Weavers of the Tapestry and The Mustard Seed!
In addition to her work in the schools, Sister Kathrine was organist and choir director at the Basilica of St. John the Baptist, a position she held for twenty-four years. In 1984, Sister Kathrine directed an archdiocesan choir for the visit of Pope John Paul II to the Basilica, where, in addition to her duties as music director, she was deeply involved in the parish outreach to the poor. In May 2006, Sister Kathrine was awarded the degree of doctor of laws, honoris causa, by Memorial University, St. John's, Newfoundland and Labrador. In December 2006, Sister Kathrine was invested into the Order of Newfoundland and Labrador by the Honourable Edward Roberts, lieutenant-governor of Newfoundland and Labrador. In February 2007, Sister Kathrine was appointed to the Order of Canada by Her Excellency the Right Honourable Michaëlle Jean, Governor General of Canada.
Throughout her life, Sister Kathrine kept in touch with her former pupils, especially the "Mercy girls," and with her only nephew, the Very Reverend William J. Bellamy, former rector of the Anglican Cathedral and dean of the Anglican Diocese of Eastern Newfoundland and Labrador, and his family. Sister Kathrine E. Bellamy, RSM, passed away on March 23, 2010, in St. John's, Newfoundland and Labrador.
---


---
Related Products