Harvey Short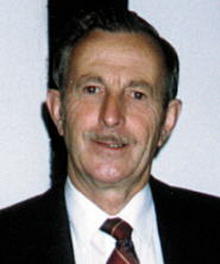 Harvey James Short, Sr. was born in Hant's Harbour, Trinity Bay, Newfoundland, in 1929. Growing up during the Depression era in a small rural community forced him to become a fisherman, woodsman, hunter, waiter, and cook. At the age of twenty he left Newfoundland for Ontario.
He gained valuable knowledge and experience in the woodworking industry for eighteen years before returning to his home province and beginning his lifelong dream of owning a successful business. Nu-Way Kitchens Limited was started in the basement of his home in Mount Pearl, with one employee, in 1967. Harvey's hard work, honesty, and drive forced his manufacturing business to become the largest kitchen cabinet manufacturing industry in Newfoundland, with over 80 employees. After his retirement in 1991, the company was passed to his son, Harvey, Jr., to remain a family-owned business.
Harvey married Jean Greer of Peterborough, Ontario, on September 9, 1950 in Toronto. Their home was blessed with three children: Harvey, Jr., Sharon, and Sheila. After his retirement, Harvey had pursued many hobbies, in which he took great pride, including gardening, building grandfather clocks, music, and travelling.
Harvey James Short, Sr passed away on January 4, 2014 in St. John's, NL.
---


---
Related Products