Clayton D. Cook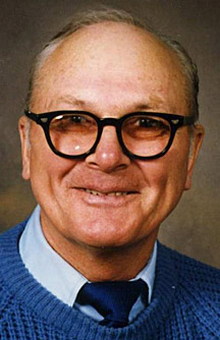 Clayton Daniel Cook was born at Port Union, Newfoundland, on September 28, 1921. He received his early education at St. Peter's Anglican All-Grade School in Princeton. In 1936, at age sixteen, he obtained employment with the Newfoundland Railway Telegraphs Department, against the wishes of his mother, who wanted him to continue on to university. After four years with the railway, he left and obtained employment with an American company as a vehicle accounting clerk. In 1941, Clayton came back to the railway and gained employment in the train service (transportation) department, a job he held for the next twenty-eight years, before taking early retirement in 1969. After his retirement in 1969, he and his wife owned and operated a hotel/motel for some years before selling out, and he and his wife travelled extensively throughout Europe for a part of two years.
In the 1980s, Clayton took an active role in the railway preservation movement and, in 1984, he literally fought a one-man campaign to save the historic Trinity Train Loop as an historical site and a monument to the men who built it back in 1909–1911. In the late 1990s, Cook was the recipient of many awards for his untiring work in the railway preservation movement. Awards came from the Government of Canada, the Government of Newfoundland, and the United Transportation Union (one of the largest railway unions in the world, based in Cleveland, Ohio), Members of Parliament, and others praising his work. He was a graduate of the New York Institute of Photography and Universal Career Institute.
Clayton D. Cook passed away in 2013 in St. John's, NL.
---


---
Related Products