Mac Moss
As a former administrator of the College of the North Atlantic, Gander campus, Mac Moss and his staff were responsible for 438 of the 6,700 passengers who landed in the Central Newfoundland community when a terrorist attack forced the closure of American airspace and brought 38 planes to Gander International Airport.
In Flown into the Arms of Angels, he tells the story of hundreds of volunteers. He interviewed municipal and service organization leaders of that time, former airport personnel, members of the RCMP, military, and the Canadian Red Cross, educators, clergy, and many more volunteers at the 80 or more places that provided the stranded passengers with shelter, food, laundry, and love. This book is about professionalism, dedication, grief, caring, and laughter, as told by the people who made this remarkable story happen.
Mac Moss was born and raised in Eastport and has authored several books on the Moss family history of Newfoundland and Labrador. One thing he discovered was that the roots of volunteering and community service run deep in his family tree. Mac graduated from Holy Cross Central High School in Eastport in 1962. He graduated from the College of Trades and Technology (St. John's) in 1964 with an electrical construction certificate and worked in the mining industry for 17 years. He obtained a diploma of vocational education from Memorial University in 1986, a degree in the same in 1988, and a master's degree in adult education from the University of New Brunswick in 1995.
Mac has devoted more than 55 years to volunteering for the Anglican Church. At the age of 26, he was appointed to the board of the Local Improvement District of Wabush, and six years later he became chair of that board. He served 11 years in that volunteer capacity.
Mac has been a member of various chambers of commerce in each community he has lived in. He was a member of the Canadian Institute of Mining and Metallurgy for 15 years until 1989. Also, he was a member of the Baie Verte Peninsula Health Centre's board of directors from 1984 to 1989. In addition, Mac Moss was a member of various development associations. In Gander, he was a member of the Provisional Board of the Kittiwake Economic Development Corporation.
In 2006, he was appointed to the board of the Central Northeast Health Foundation, the fundraising foundation for the central northeast part of the Central Health District. He founded a Health Foundation Boating Regatta, and 14 years later, that little regatta has raised over half a million dollars for health care in the region.
In 2015, Mac Moss was awarded the Gordon Seabright Volunteer of the Year Award as the most outstanding volunteer in the province.
Mac lives in Gander with his wife, Nellie. They have three adult daughters, three granddaughters, and four grandcats!
---
---
Related Products
discount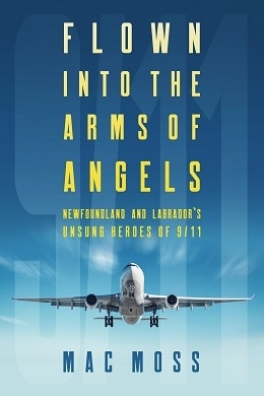 Flown into the Arms of Angels