Ron Pumphrey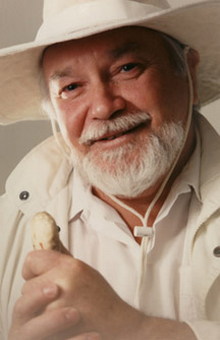 Careers adventurer Ron Pumphrey was born in Harbour Grace, Newfoundland, in 1931. He was, variously and sometimes conjunctively, surface-mines labourer, amateur boxer-wrestler, salesman, journalist, editor, radio talk-show host, television news writer and amateur performer, books editor and publisher, writer and performer of three long-playing recordings (LPs). He founded two bay newspapers and two capital city monthly magazines, was a city councillor, a commercial investigator, a minister, and perhaps the province's first private public relations man ("PR With RP"). A lifelong student, he was a certificate holder in beginners' law, in coastal navigation, and in writing, and the motivational sciences. He had studied in day schools, night schools, nighttime universities at home, on the mainland, and in the United States.
Noted as a hard-working, hard-playing individualist, Ron worked in Jamaica with the Kingston Daily Gleaner (where his sense of humour resulted in his getting a job when literally none was available), was for a short time a stringer for the New York Times, and, in Toronto, was a full-time employee variously with the Stock Exchange, Dun and Bradstreet, Flash Newsmagazine, and British United Press. His hobbies were educational pursuits, political and other news analyses, philosophy, and watching his weight come and go.
His children (by his late wife, Nellie Dwyer of Bell Island) were Heather, Ron Jr., Helen "Nellie," Steve, John, Shawn, and Ian, who lived in Newfoundland, Nova Scotia, the Yukon, and Denmark. He lived with his wife and companion of thirty-two years, writer-activist Marilyn Tephi Duffett, in a cottage built onto (not into) the slope of a high hill, in Quidi Vidi Village, hard by Ye Olde Inn which kept his favourite brew on order. He spent the first dollar bill there, when "the tav" opened in 1977. It's in a glass-fronted frame on a wall near the bar.
Ron Pumphrey passed away on January 8, 2019, in St. John's, NL.
---


---
Related Products