On This Day ( paperback )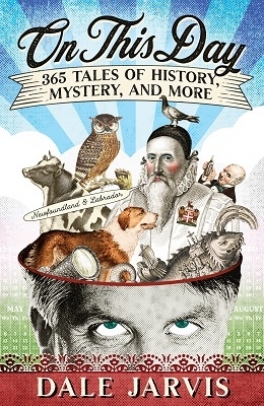 The Newfoundland and Labrador of yesterday was more colourful than you might remember, and no one is more qualified to be your guide through the strange terrain of local history than folklorist and storyteller Dale Jarvis. In this book, you will come face to face with remarkable phenomena, mysterious objects, swarms of grubs, promiscuous spitting, whale milk, and raisins as large as figs. You will look for strange sights in the sky, draw up the mysteries of the deep, and foretell the future using only the bumps on your head or an egg in a glass. Along the way, you will meet jail-breakers, broom makers, contortionists, swindlers on the run, the legendary Fanny Goff, and Miss Toronto herself.
On This Day is a day-by-day record of the wonderful and extraordinary in everyday life. Drawn from old newspaper clippings, diaries, and historical accounts, this volume celebrates the strange and shines a light on the half-forgotten headlines of the past.
Shopping Cart
You have no items in your shopping cart
---
| | |
| --- | --- |
| Sub Total | $0.00 |
| Shipping | $0.00 |
| HST (0%) | $0.00 |
| GST | $0.00 |
| Total | $0.00 |
---