The Bullet ( e-book )
Stories from the Newfoundland Railway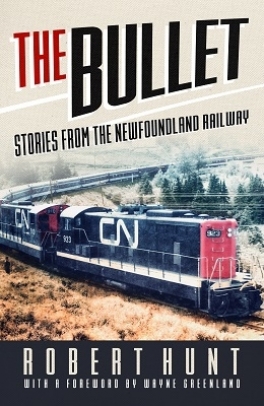 SOLD OUT
Compiled from interviews with a select group of retired seniors, The Bullet is a collection of stories about the men and women who worked for the legendary pre-Confederation Newfoundland Railway, which later became the Canadian National Railway when Newfoundland joined Canada in 1949. The dedication and friendliness of the employees are shown in abundance throughout this book, and it is evident that their service to the people of Newfoundland who "rode the rails" while travelling with CN was second to none. Explore the history of the railway, see how the steam engines changed travel when they were converted to diesel, get a glimpse of the railway yard in St. John's, and witness the loyalty of the crews who worked in this highly esteemed profession.
For decades the railwaymen of CN gave their all and put in long hours as they went about making "their" customers feel comfortable and welcome on every trip. All passengers were treated with courtesy and respect as they made their way across the island of Newfoundland.
Travel with Robert on a behind-the-scenes tour as he explores the once proud, never forgotten story of the CN Railway. With a foreword by Wayne Greenland, president of the CN Pensioners Association of Newfoundland and Labrador.
NOTE: This book will be available in e-book format only, as of June 15, 2020. Paperback edition to be released on August 19, 2020
Shopping Cart
You have no items in your shopping cart
---
| | |
| --- | --- |
| Sub Total | $0.00 |
| Shipping | $0.00 |
| HST (0%) | $0.00 |
| GST | $0.00 |
| Total | $0.00 |
---